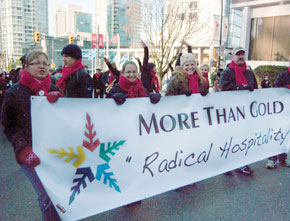 The official 2010 Olympic countdown clock, located at the corner of Georgia and Hornby Streets in Vancouver, marks just over a month until that city and Whistler will host the XXI Winter Olympic and Paralympic Games.
World-class venues stand ready for competitions, and the Athletes Village is nearing completion. The battle lines drawn either for or against the Games fade, as the city braces for the influx of an estimated 300,000 visitors. But is the church ready?
Various metaphors can be used to describe the countdown clock. Some look at it as a tourist attraction; a sentinel of promise and a launching pad of great opportunities. Others see it as an alarm clock, drawing attention to unresolved problems in the city. Both of these viewpoints reflect attitudes in local churches and faith-based organizations in Vancouver.
Many leaders of the faith community see the Olympic Games as a once-in-a-lifetime opportunity for the church to come together, both for witness and service.
More Than Gold (MTG) is a network of local churches, denominations, agencies and individuals that are preparing for the Games. MTG's mission is to organize the church to collaborate at this time, and to create spaces to extend the radical hospitality of Christ.
There are 15 denominations and more than 30 organizations associated with the network, to express Christian unity in witness and service projects. MTG also is a voice and advocate for agencies which speak to the many social problems that are anticipated to heighten during the Games. More Than Gold has an ambitious agenda.
The official Vancouver Organizing Committee (VANOC) asked MTG to give leadership for the interfaith chaplaincy program, and to offer limited help in a number of other areas – including sustainability issues, home stay for officials and transportation logistics.
More Than Gold will coordinate hospitality needs for 3,000 individuals from visiting mission teams. These people will join local volunteers involved in the distribution of 28,000 visitor's welcome kits; 500,000 hot drinks at warming stations located along Translink lines; and an estimated 500,000 pieces of literature.
Conversations & culture
There will be 5,000 people trained to engage the public in spiritual conversations and critical response counselling. Christian artists from the creative arts community will present 400 hours of cultural performances on open stages.
Bob Kraemer, director of operations for More Than Gold, coordinated programs and activities which were held this past fall.
"The fall was a time for training for hospitality, evangelism and prayer. Plans for venues for our creative and performing arts presentations are confirmed, and we are coordinating a number of sports initiatives, and planning open air festivals."
Coastal Church, a congregation located in downtown Vancouver, is engaged with the MTG vision. It will serve as an 'open door church,' promoting large screen events for the opening and closing ceremonies, and providing a directory to local businesses.
They will offer free internet service and coffee to visitors, with concerts featuring rising Christian artists. They want to serve as a spiritual sanctuary for people needing a place to pray and reflect.
Networks & enthusiasm
Hope Vancouver is an interdenominational, pastor-driven network that is working closely with MTG. It began as the result of an EFC (Evangelical Fellowship of Canada) think tank on urban transformation that met in 2000.
Pastor David Carson, a member of the original group of leaders that formed Hope Vancouver, echoed a positive outlook on the Games.
"The Olympics will bring people together, creating large networks, excitement and enthusiasm. Our hope is that there will be a platform of faith, unity and relationship that the Lord can use for the future of the church in Vancouver, in a remarkable way."
A three-fold vision describes the purposes of the movement. Leaders are encouraged to press into God in an unprecedented way, through prayer and fasting.
Churches are called to do greater good deeds than ever done before, serving both the visitor coming to Vancouver and those in need.
Then, after the Games are finished, there are plans to gather the Christian community for a time of unified celebration.
Canada Ablaze
More Than Gold and Hope Vancouver are partners in Canada Ablaze, a 106-day prayer relay that will follow the Olympic torch as it crosses Canada.
The groups have posted a prayer guide that can be used by people to follow the Olympic torch and pray for the Canadian cities as it passes through the nation.
The torch started its journey in Victoria October 30, and will visit hundreds of communities across Canada until it ends back in Vancouver February 12.
The goal is to call Christians across the nation to pray for Vancouver, their own community and the country. The prayer guide is available by following the links to Canada Ablaze at morethangold.ca/group/prayer.
Kevin Cavanaugh, pastor of Cedar Grove Church in Surrey, and until recently leader of Hope Vancouver, prays for a spiritual legacy to begin during the Games.
"Our hope is that, after all the dust is settled, we will have raised the spiritual temperature across the entire region, and even the country, a degree or two or more."
Perhaps this optimism is best summed up by Giulio Gabeli, pastor of Westwood Community Church in Coquitlam and a leader of Hope Vancouver, who says: "The opportunity of a lifetime must be seized in the lifetime of the opportunity."
Ticking alarm clock
But not everything about the 2010 Olympics is sprinkled with golden glitter. Vancouver, like other Olympic host cities, will face tremendous social upheaval. This will all occur while under the scrutiny and spotlight of the world media.
Social activists, and those who work closest with the residents of the Downtown Eastside, have mostly been opposed to the 2010 Games.
They argue that past local organizing committees glossed over social ills, while millions of dollars were spent on venues and celebrations. They fear that 'unwanted people' – the poor, addicted, and mentally ill – will be moved out of the city.
They can document other world-scale events that became magnets for the drug and sex trades, leading to increased human trafficking and crime.
They predict that suffocating traffic, an outbreak of illegal activities and mounds of garbage will be the mark left upon Vancouver. Local churches and agencies working with the poor are caught in the middle of this tension.
Prophetic trajectory
Streams of Justice (SOJ) is a movement that actively pursues equitable, inclusive and compassionate expressions of society.
SOJ head Dave Diewert describes the position of the group towards the Games as "a thoughtful and informed analysis of the Olympics, placed against the biblical prophetic trajectory of critique, dissent and non-compliance."
Diewert adds: "I think that when we consider carefully the movement of Jesus and the Olympic Movement, we become increasingly aware of their fundamental incompatibility." (See streamsofjustice.org).
David Bornman, pastor of a church located in Vancouver's Eastside, echoes a similar caution when he states: "Churches need to discern the difference between the leading of the Holy Spirit and event hype. "Remember that the god of sports and fame has another agenda, which does not carry the same importance for a congregation's time, energy and dedication."
Mixed reviews
Tim Dickau is pastor of Grandview Calvary Baptist, a church located on the fringe of the Downtown Eastside. He is a member of the EFC Roundtable on Poverty and Homelessness, and spent 20 years leading his congregation through a journey from being disconnected with the surrounding community, to being engaged and connected to it. He has heard mixed reviews about the Olympics.
"The world-class spectacle may lead to displacement of the poor, and draw attention away from the struggles and suffering in our city. Some ask why there are so many people willing to open their homes to strangers, when they resist and push away the people that are on the street."
The Salvation Army is an example of a group that grapples with the social problems of hosting the Olympics, while also considering the Games as an opportunity. Sharon Tidd, 2010 Outreach Coordinator, encourages local churches to engage in both witness and service.
"Our services to the community, especially to those struggling with homelessness, addiction and abuse, will continue through the Games period. This is our priority. But we also see the Games as a unique opportunity to serve and care for visitors as they come to our city."
Tidd is coordinating large screen events, warming stations, sports camps and community festivals. Mission teams from the international Salvation Army community will come to serve hot drinks at their mobile canteens, both to visitors and the homeless. They support the campaign against sex trafficking, and will continue to work with the marginalized after the Games.
Embrace & critique
"Like Christ," Tidd says, "we are called to both embrace and critique culture – and sport is a huge part of North American culture. The Olympics represent an amazing opportunity to touch our world with God's love and forgiveness. We can't sit on the sidelines."
Each day the countdown clock ticks closer to February 12. The Olympic Games have brought churches, agencies and individuals to the same table – as they coordinate events, prepare to meet needs, and discuss the issues that affect the city. The Games have brought people and groups together that would otherwise be isolated and working alone.
Prayer for the city is growing, and people are working toward common goals – getting out of their church buildings and into the community.
Dwayne Buhler is director of Missions Fest Vancouver, and a member of the More Than Gold Prayer Working Group. Reprinted with permission from Faith Today. Contact: faithtoday.ca.