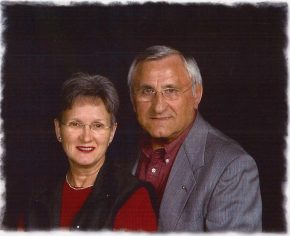 School was something like four or five miles away. It seemed like a fairly long way to me then – but, with the help of my siblings, getting there was easy.
As we walked to school, the older ones carried the little ones on their backs, or held their hands and pulled them along when they were so tired it was difficult to go another step. As a very large family, we knew how to hold together.
The distance was only one of the difficulties we had to overcome. When I started going to school – a one-room building on the Canadian Prairies in the middle of the Great Depression – we still mostly spoke German at home, as that was the native tongue for both mother and father. So we hadn't learned the English language as well as we should have when we went to school. On top of that, I had a speech impediment, which was so dreadful that it was difficult for me to put a sentence together. It required a lot of stamina to try to cope with such a difficult situation.
Fortunately, some of the teachers had tremendous compassion for some of the young children who were a little backward, or had hearing or speech impediments. They would spend a little extra time at recess and lunchtime talking to us, drilling us with flash cards or giving us tips on how we should pronounce our words. That was a great help to me.
Years later, I was speaking at a family gathering, and I noticed an older lady sitting there watching my every move. After it was over and I stepped out from behind the podium, she approached me and said, "You are that little Harry who couldn't speak." I said yes, indeed, I was that little Harry.
Years earlier, she had been a beautiful young lady, perhaps in her early 20s, teaching in a little schoolhouse and giving extra attention to some of the children like me who needed a little more help.
Now here she was, as a grandmother, able to hear me speak. She was very happy with my performance that day. We embraced. I had a chance to talk to her about her family, and I told her about my family.
Somewhere along the way, we all have wonderful experiences. What a great experience this was for me.
Excerpted from  by Harry Schmidt, with James R. Coggins (www.harwoodltd.com).