A ministry designed for a one-time event is still impacting Quebec society a generation later.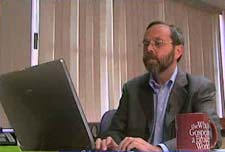 When a group of Christian businessmen in Quebec decided to set up a 'Sermons from Science' pavilion at Expo 67, the world's fair held in Montreal, they probably had no idea what the result would be. Earlier this year, Christian Direction, the ministry that grew out of that one-time event, celebrated its 40th anniversary.
The organization offers a wide range of services and is, in the words of director Glenn Smith, "a rallying point for Protestants" in Quebec. It has an annual budget of $1.1 million and a staff of 25, over half of them full-time.
Beginning
'Sermons from Science,' using Moody science films and a variety of other presentations, became a highly popular pavilion at Expo 67. More than that, Smith said, it "jump started French Protestant church planting" in Quebec.
The organization that had run the pavilion was renamed Christian Direction in 1969. Under the leadership of first director Keith Price, it continued to run outreach programs and events and to encourage the new church plants. It also served about 800 Catholic charismatic small groups across Quebec.
Christian Direction also played a leading role in the outreach at the Olympic Games in Montreal in 1976 and at Leighton Ford crusades in 1983 and 1990.
Partners with the church for the city
When Price moved on to become minister-at-large with the Evangelical Fellowship of Canada in 1983, the leadership passed to Glenn Smith. Under his leadership, the organization gradually developed its current focus of encouraging "the spiritual transformation of all of life by Jesus Christ in the cities of Quebec."
Smith said the organization has developed competencies in four key areas: creative evangelism, spiritual formation, contextual research and resources for the church. One of the ministry's strengths, Smith said, is that it "knows what it is good at and sticks to that," rather than trying to do everything.
These four competencies are used in five areas of ministry. The first of these is education. Christian Direction operates five Accroche Centres, drop-in centres where children and youth in danger of dropping out of school can come and get help.
In this area, Christian Direction also develops resources for moral and religious education that can be used by parents, teachers and chaplains in the public school system.
Second, the organization works with artists, to use art as a tool for evangelism and spiritual formation. For instance, it runs a program to teach art to homeless people as a means to help them get their lives back together and get off the street.
Third, Christian Direction is involved "in the marketplace." It facilitates a network of workplace Bible studies for businesspeople and other professionals, and also organizes annual teaching conferences for that network.
Fourth, Christian Direction is involved in some "off the wall" outreach events. For 17 years, it has had a booth at various psychic expos, to present a Christian alternative to the many Quebecois seeking spirituality; those who visit the booths and express an openness are directed into ongoing Bible study groups.
Fifth, Christian Direction runs ministries teaching French and English to immigrants and helping them get settled. It also does extensive research into urban contexts and then helps churches understand their urban contexts and design ministries that can successfully reach the people there.
Christian Direction staff have become so expert in this area that they teach urban missiology in other French-speaking countries of the world. Smith said this is an opportunity to "give back" for a ministry that was birthed when the world came to Quebec.
A reference point
Christian Direction is deliberately interdenominational and transdenominational, designed to encourage Christian unity. While clearly evangelical, it maintains a good rapport with the 19 Roman Catholic dioceses in Quebec.
The role played by Christian Direction is especially significant given the lack of other interdenominational umbrella organizations in Quebec. For instance, the Alliance Francophone des Protestants Evangeliques du Quebec was founded as an offshoot of the Evangelical Fellowship of Canada (EFC) in the mid-1990s but closed down only a few years later.
Some of that body's ministries, such as prayer summits and family ministries, have continued, said Smith. However, he regrets that the EFC has not come back in to Quebec to fill the gap in a more substantial way.
In the meantime, Christian Direction does what it can. "There will always be a need for a reference point where people can get information and be served," said Smith.