Evangelicals can also play and laugh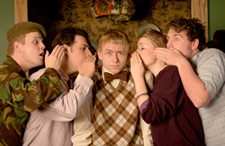 Trinity Western University, an evangelical Christian university in Langley, B.C., is presenting the play 'The Foreigner' November 23-December 4. The light-hearted farce focuses on a man named Charlie who goes to a small Southern town and soon becomes privy to all the town's secrets.
Christians can dance
Chantal Hunter has been named artistic director of Corps Bara Project Company. She has a bachelor's degree in dance from the University of Calgary and a master's degree in dance choreography from the University of Arizona. The Calgary-based professional Christian dance company also has a youth company to develop new talent. It opens its eleventh season November 19 at First Alliance Church in Calgary with InSight, a gala fundraising event. It will also present 'A Time For Everything,' a production based on the book of Ecclesiastes, February 24-26. Its season culminates with a joint production with the Cum Vino Cantos Chamber Choir April 14-16; the first half of that concert will be centred around the Stations of the Cross, and the second half will be a modern exploration of the hardships and adventures of a spiritual journey.
Confusing bill
The Evangelical Fellowship of Canada (EFC) and Canada Family Action (CFA) have spoken out against Bill C-389, a private member's bill introduced by Vancouver-area MP Bill Siksay, which would add "gender identity" and "gender expression" as prohibited grounds of discrimination under the Canadian Human Rights Act. The bill has received very little media attention but has already passed second reading in the House of Commons. Both organizations noted that it is difficult to judge the impact of the bill because both terms are undefined but suggested that it could allow a man to enter a women's washroom if he identifies himself as a woman. "This bill will certainly make pedophiles happy," said the CFA's Brian Rushfeldt.
Not free to follow that line of thinking
The Carleton University Student Association (CUSA) has notified Carleton Lifeline, Carleton University's pro-life student group, that the club will not be given club status or funding unless the group renounces its pro-life beliefs. Carleton Lifeline president Ruth Lobo said CUSA is violating its own policies in discriminating against the club, which has had club status since 2007. Several Carleton Lifeline club members were arrested last month when they attempted to set up a pro-life exhibit on campus.
Sex and the student
Three scholars from Vancouver argue that raising Canada's sexual consent laws from 14 to 16 has not done much to protect teens. They found that children 13 and under were more likely to have sex with an adult over 20 than were children 14-15. The researchers also said that "most teens are not having sex," but 14 and 15 year olds who do "were generally making the same good decisions as 16- and 17-year-olds" (by using birth control). The researchers also said that clear data on the effect of the change, made in 2008, won't be known until 2013. The study, 'Age of sexual consent law in Canada: Population-based evidence for law and policy' by Simon Fraser University (SFU) adjunct psychology professor and University of British Columbia nursing professor Elizabeth Saewyc, SFU psychology graduate Bonnie Miller and SFU psychologist David Cox, was published in the Canadian Journal of Human Sexuality. They drew their data from the 2008 B.C. Adolescent Health Survey of 29,000 students in grades 7-12.
Right to protect rights
A group called Stand Up for Freedom Canada has launched a grassroots campaign to protect such rights as freedom of speech and expression, freedom of religion and conscience, freedom of the press and freedom of assembly and association. The organization says these rights are threatened by the human rights commissions and tribunals that were created to protect them. The campaign cited several problems: 1. The Tribunals do not have to abide by the rules of justice used by courts. 2. The Canadian Human Rights Commission had a 100 percent conviction rate for Section 13 cases it brought before the Tribunal for 32 years – until Section 13 was declared unconstitutional in 2009. 3. Activists use the commissions to silence and bankrupt their political enemies since complainants do not have to pay any costs even if they lose and defendants must pay their own legal expenses even if they win. 4. The commissions actively seek complaints of borderline legitimacy in order to increase their workload. 5. The commissions lobby parliament to create more 'rights' that restrict fundamental rights and use their policy-making powers to read new rights into provincial human rights codes. 6. The commissions have more investigative powers than the police, without proper safeguards. 7. There is no complaint mechanism by which the commissions can be held to account.
Technical help
Mining company Teck Resources Limited announced a $2.5 million donation to St. Paul's Hospital in Vancouver on October 27. The donation concludes a campaign to fund a $14.7 million renovation of the hospital's Emergency Room. St. Paul's is part of Providence Health Care, one of the largest Catholic health care organizations in Canada.