Evangelicals and Pentecostals get together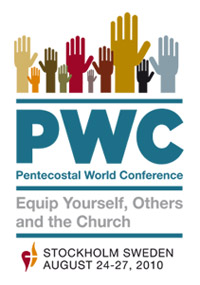 Geoff Tunnicliffe, head of the World Evangelical Alliance (WEA), spoke at the Pentecostal World Conference (PWC) meeting in Stockholm, Sweden, August 24-27. Tunnicliffe thanked Pentecostal leaders for their "tremendous contribution to the life and growth of the church around the world" and praised them for being active participants and leaders in most of the WEA's 128 national Evangelical Alliances worldwide. Outgoing PWF chair James Leggett announced a new partnership between the PWF and the WEA. The PWF is a fellowship of Pentecostal believers meeting every three years. The WEA is made up of 128 national evangelical and 104 associate member organizations, representing about 420 million evangelical Christians worldwide.
Alto recognizes a solid base
LaVerne Erickson, founder of the Rosebud School of the Arts, Rosebud Theatre and the Canadian Badlands Passion Play, has been named the recipient of the 2010 Alto Ambassador award for outstanding contributions to Alberta's tourism industry. Erickson, then a music and art teacher in Calgary, started Rosebud Camp of the Arts as a summer outreach program for Calgary youth in 1973. This grew into the Rosebud School of the Arts, which led to the founding of Rosebud Theatre in 1983. The Passion Play was begun in 1990. The award will be presented at the Alto Awards Gala on October 25 in conjunction with the 10th annual Travel Alberta Industry Conference at The Fairmont Banff Springs Hotel. Erickson was also a founding member of the Chemainus Festival Theatre on Vancouver Island in 1993.
From lawbreaker to lawmaker to ??
Serge LeClerc resigned as a Saskatchewan MLA at the beginning of September. He left the Saskatchewan Party government caucus in April after the CBC received internet chat transcripts and a tape recording of a phone call. The materials allegedly showed Leclerc talking about using cocaine and marijuana and having homosexual sex about a year earlier. Leclerc denied the allegations, saying it was not his voice on the tape. He took a drug test in April, which showed no drugs in his system, although the test only proved he had not taken drugs for five months. Leclerc's lawyer said he resigned his seat due to poor health; he suffers from diabetes and hypertension. Leclerc's autobiography, Untwisted, told how he had been a long-time gang leader, drug dealer and drug addict but had turned his life around after becoming a Christian. He moved to Saskatchewan in 2002 to head the local chapter of Teen Challenge, a faith-based drug and rehabilitation program. When the allegations were raised, Regina police investigated the matter but decided in May not to lay charges. However, Saskatchewan's conflict of interest commissioner is now investigating the allegations, as well as allegations Leclerc used his constituency office to book speaking engagements and sell copies of his book.
O Canada
A True North national Canadian prayer conference is being held October 13-16 at Calvary Temple in Winnipeg. It is being led by The Burn Canada. Speakers include James Goll, co-founder of Encounters Network and director of PrayerStorm; Stacey Campbell of RevivalNOW! Ministries; Rob Parker who founded the National House of Prayer along with his wife Fran; and Sara Maynard, founder and Director of Cityscape Prayer Ministries.