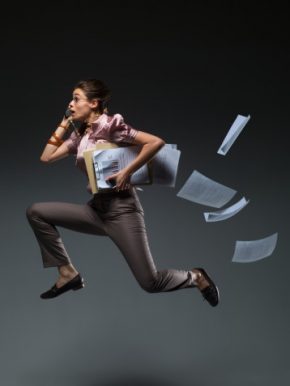 As I write this, I have just finished cleaning up kids' vomit for the nth time over a period of days; my father-in-law is recovering in the hospital from major heart surgery (requiring regular visits on our part); my husband, who is trying to finish his thesis for an end of summer deadline, needs ongoing support.
To top it off, we were recently involved in a car accident – leaving us unhurt, thank God, but bereft of a vehicle (impelling us upon an arduous search for the all-but-impossible-to-find affordable eight-passenger minivan).
As they say: when it rains, it pours – even in July, in B.C.!
Often, when I get comments like, "Boy, you must be busy with six kids," I remain nonchalant. After all, isn't everyone busy, busy, busy? In this instance, admittedly, I am coming round to recognizing why others are evidently nonplussed. I am realizing, however, that it is not so much the quotidian challenge of our daily grind, nor the emotional investment required by parenting, that makes me feel so 'busy.'
It is rather the anxiety that comes from being preoccupied with what the next day will bring; the sense of fragility accompanying such security and stability as I am lucky to experience; and the way everything seems to hang by a thread, one that seems to snap the moment a 'crisis-ette' hits!
As a young single gal, living in a fast-paced, opportunity-saturated, convenience-oriented society, I found it a fairly straightforward exercise to maintain a five-year plan, to keep up a 'penned-in' social calendar, and to be regularly ticking off items on my 'self-care checklist.'
After becoming a mother, however, my priorities have been effectively turned upside-down: instead of a long-term agenda, I now have 'Plan A, B & C' for this afternoon – expecting that I may well have to come up with an impromptu 'Plan D' if, as often happens, things do not work out as I would like.
In lieu of a 'little black book,' I now employ simply a mental 'penciled-in' plan of who I would like to connect with at some point – if probably only for a phone date, late at night while folding laundry. As for my checklist, its categories include 'kids' fed/hugged/cleaned' and 'husband spoken-to/back-scratched/prayed-for'; under my name, there is usually a question mark, if only because I am not always sure any more just what I need!
But 'busyness,' ultimately, is not about how much we have to do ; it is about the state of our souls. It is anxiousness about the cares of life that the Lord reproves – not diligence in attending to them, as numerous as they may be. Isn't this why Martha was chastised and Mary praised? One can get it all right – and yet not get it , at all, right? We can lose key relationships – with our kids, with our spouses, with God – even as we fulfill all our duties in their respect. "For where your treasure is, there your heart will be also," as Jesus said.
In fact, our busyness most hurts the relationships that we overlook, cast aside or 'outsource.' My latest read, Global Women , speaks of our society's 'unavailability' in regard to caring for children and the elderly – in consequence, soliciting Third World domestic labour.
Mother Teresa, who lived among the most abjectly poor in Calcutta, considered that the West suffered from its own endemic form of poverty: that of loneliness. Surely, this is a cumulative result of tending more to the cares of life than to the meaning of it.
What is the motivation behind all our busyness? Is it perhaps a desire to be noticed, a craving for something to be going on in our lives, a self-important focus on accomplishment?
Let's recall Mary, Martha and Jesus in Luke 10:41-42. In the midst of our busyness "with many things," let us not lose sight of the "better part," the "one thing needful."
So… when you're not too busy (!), feel free to drop me a line, at jeanfamilycolumn@gmail.com.