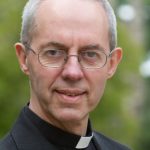 Justin Welby, the current Bishop of Durham, was named Friday as the 105th archbishop of Canterbury, primate of the Church of England, and leader of the worldwide 77 million-member Anglican Communion.
Welby was an oil executive for 11 years before leaving to train as a priest in 1987. Since then, many have described his rise through the Anglican Church as "meteoric" because he was first made a deacon only 20 years and he was made bishop of Durham only 1 year ago.
There are a number of reasons for Welby's meteoric rise in the church – he has been described as a very likable, steely, and self-deprecating leader who has no critics – but it appears that nothing has been more important than his experience and success as a business executive in the "real world."
In the statement formally announcing Justin Welby as the new archbishop of Canterbury, British Prime Minister David Cameron had this to say about Welby's experience in the business world:
I think having someone who had a life outside the church in business, who understands difficult, complicated issues, will bring a great breath of fresh air to the Church of England.
Similar sentiments from the media are easy to find.
Andrew Brown and Lizzy Davies note that Welby's experience will help him hold the church within a proper perspective in the "real world":
Welby, however, has praise from all corners of the church and he carries the promise of being able to talk as if the Church of England doesn't matter very much. That may seem like an odd qualification to be archbishop of Canterbury, but it may be the essential one today.

[…]

Perhaps the real benefit of Welby's business background will be that he is more easily able to concentrate on his own agenda amid the distractions of the world than his unworldly predecessor ever proved.
Welby's business experience might allow him navigate through aspects of the "real world" that are often mystifying and foreign to the Church. As Stephen Bates puts it:
(Welby) understands the modern holy grail: money and the City, objects of mystery and awe to many in the church. They hope it means he is connected to what they think of as the real world.
Such optimism for Welby's ability to lead a religious institution the size of the Anglican Church points to the fact that the people are starved for leaders who have not only theological acumen but also knowledge of the real (secular) world. This brings up an increasingly recurring and important question for the church: How much "real world" experience should pastors and church leaders have before shepherding a congregation or leading a religious institution?
This question is, of course, not intended to turn our churches into businesses and our pastors into entrepreneurs. The major issues of same-sex marriages and women leadership in the church that now face Welby are deeply theological, biblical, and historical issues that cannot be adequately answered without proper reflection and wisdom on the Bible and tradition.
However, it would be naïve to think that the issues of same-sex marriages and women leadership are only theological and biblical issues. They are also deeply social and political issues that impact people beyond the ivory tower of theological discussion.
So, it seems clear that church leaders need both theological and worldly wisdom to navigate the church in a complicated modern world. Welby has both, and thus it will be interesting to see if he will serve as a model for church leaders in the years to come.