This past week seems to have been a time of some interesting instances of faith-meeting-politics-meeting-life, with a little southern exposure thrown in.
On Saturday, October 30, Edna and I took in a dinner honouring Ezra Levant, a journalist/lawyer who has given considerably from his time, talent and treasure in recent years, defending our right to free speech and a free press.
Speaking eloquently in his honour, fellow journalist and Maclean's magazine columnist Mark Steyn defended a journalist's right — indeed, his or her obligation — to exercise free speech, even when people on the other side of the fence seem to be or, indeed, are offended.
The event was spearheaded by the Canadian Centre for Policy Studies, a right-leaning Ottawa-based think tank spearheaded by Joseph Ben Ami.
At our table was an Episcopal priest from upstate New York, and his wife. They had never visited Ottawa. They had become fans of Steyn through internet radio links, and welcomed the chance to make the three-hour trip to hear him in person.
It turned out that they had another reason to visit Canada, as well. One of their daughters has been taking studies at a Midwestern American Christian university. In the process, she has acquired a boyfriend from Alberta. She is bringing him home to meet the folks at American thanksgiving, later this month.
This occasion, they suggested, was a good time to get a little slice of the country that might just become somewhat important to their family.
* * *
We returned the favour, in spirit if not in person, by watching the American elections Tuesday evening, switching between CNN and CBC for the coverage. (We don't get Fox News. What a shame!)
We were able to get a bit of a sense of the seismic shift engendered by the elections. The one phrase which keeps recurring is the case for "limited government." Of course, the references to God and spiritual renewal are never far from the surface in the 'Tea Party' message, but the Canadian listener has difficulty figuring out when the religious talk is rhetoric or reality.
But we were impressed by Marco Rubio, who won a Florida Senate seat. He was a Tea Party advocate who displaced the Florida governor as the Republican candidate. He is young, with a young family — and spoke open-facedly and, sincerely, we believe, about giving honour to God in the political process. He stopped short of either theocratic militancy or maudlin sentimentality.
* * *
Then, on Wednesday morning, we read David Frum in the National Post, writing about the need for the Republicans to replace anger with ideas.
Frum, of course, tends to think like the Canadian-rooted fellow he is. And, from this perspective, he is right. Anger only lasts so long when a small-government movement lashes out at the repression it feels from statist domination. Sooner, rather than later, that anger gives way to strong ideas for making the changes both worthwhile and workable.
His take on it is that "more than ever, we need a culturally-modern Republicanism to represent the whole nation — that governs in the interest of the many, not the few — that can solve social problems at a cost within the nation's means."
* * *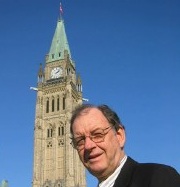 Lloyd Mackey is a member of the Canadian Parliamentary Press Gallery in Ottawa and author of Stephen Harper: The Case for Collaborative Governance (ECW Press, 2006), More Faithful Than We Think: Stories and Insights on Canadian Leaders Doing Politics Christianly (BayRidge Books, 2005) and Like Father, Like Son: Ernest Manning and Preston Manning (ECW Press, 1997). Lloyd can be reached at lmackey@canadianchristianity.com.