While the rescue of the Chilean miners has won the attention of most of the media in the past few days, some other breaking stories have been in the competition.
One of the most interesting was the election for two temporary seats on the United Nations Security Council. Canada came third — and withdrew when it became obvious that more votes would ultimately turn up in Portugal's column. Detractors from the current government decried our present foreign policy as "wrong," and said that was the reason we lost. Supporters of the current government defended our foreign policy as "principled" — and, likewise, said it was the reason we lost.
One thing was for sure: the lack of unity between government and opposition on this matter was almost unprecedented. Liberal Leader Michael Ignatieff is on record as opposing our having a Security Council seat; while prime minister Stephen Harper, of course, is not. Usually, on matters of international import, the opposition tries to provide support in the national interest. And the government accepts such support when it is offered.
Three instances come to mind.
John Manley, the former Liberal deputy prime minister, accepted Harper's 2008 invitation to chair a bi-partisan committee recommending on Canada's engagement in Afghanistan. His balanced leadership was a credit to the acuity of both men. And in 2009, Gary Doer, former NDP premier of Manitoba, began work as
Canada's Ambassador to the United States — a role he is filling with distinction.
Of course, Harper was following in the footsteps of the most diplomatic of all prime ministers. That was Lester Pearson, a Liberal who assigned one of his opposition leaders, Robert Thompson, in the 1960s, to troubleshoot several regional Africa conflicts in which Canada had some interest. Pearson knew of Thompson's considerable pre-political experience in Ethiopia and trusted his skills and instincts, despite the fact that Thompson was a de facto conservative.
Ignatieff, given that he, too, has pre-political experience outside Canada (albeit in academe rather than in foreign service) ought to be a little more careful about what he says regarding our current foreign policy. True, many of his advisors have long experience; but they were working in eras that are
considerably different from 2010. While their insights might be useful, they may not be quite current on some matters.
That brings me to some gentle suggestions with respect to one of the issues that might well have been a factor in the lost vote: the juxtapositioning of international development issues in the Middle East, Africa and Latin America. The issue deserves more attention that can be provided in these remaining paragraphs. But they do have faith/political aspects that deserve at least a brief mention.
The Harper government has taken considerable flack from past diplomats and opposition critics for shifting its international aid and development initiatives toward Latin America, and somewhat away from Africa.
The point which has generally been ignored, in media coverage of this issue, is the role which Middle Eastern nations could be taking, in picking up the potential slack in Africa. Those nations — many of them oil-prosperous, Islamic and, in varying degrees, theocratic in their governance style — have much in common with Islamic-dominated nations in Africa. Some of those African nations have experienced much unrest and repression, precisely because of the religion-related issues. Sudan is a case in point.
A number of those Middle East nations have some well-articulated philanthropic and development aid philosophies rooted in their own religious perspectives. They have both the money and the capability to do something about it — and some leaders, like Queen Rania of Jordan, for example, with her keen interest in microcredit and HIV/AIDS assistance — are taking some constructive steps in that direction. The best that Canada might do, in helping the Middle East help Africa, is to encourage them to do so — even if it means that our particular current policies may be misunderstood in the short term.
Meanwhile, in Latin America, we have some interesting activities: trade-aid initiatives in countries like Colombia, and our proactive post-earthquake action in Haiti, to name two. They grow out of our ability to see beyond the corruption and violence of the past in Latin American countries, to establish policies that help those nations to face the future. And much of the common faith-based heritage that is shared by many in the Americas becomes part of the infrastructure necessary to constructive change.
* * *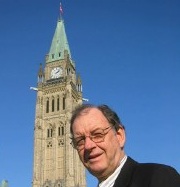 Lloyd Mackey is a member of the Canadian Parliamentary Press Gallery in Ottawa and author of Stephen Harper: The Case for Collaborative Governance (ECW Press, 2006), More Faithful Than We Think: Stories and Insights on Canadian Leaders Doing Politics Christianly (BayRidge Books, 2005) and Like Father, Like Son: Ernest Manning and Preston Manning (ECW Press, 1997).
Lloyd can be reached at lmackey@canadianchristianity.com.