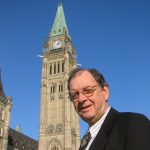 They are called the New Life Acappella Singers and they come from Calgary.
I first heard them singing one day last week, as I headed toward the Parliament Buildings Centre Block cafeteria for a bite of lunch.
The sounds of the 23rd Psalm (to the tune of Crimond) were wafting down the Hall of Honour. Like a moth to a flame, I was drawn down to the parliamentary rotunda for a closer listen.
Fran Parker, the wife side of the Rob and Fran partnership who oversee the National House of Prayer, quickly informed me that these 20 or so young people were high school age homeschoolers. They were in Ottawa as part of a field trip to learn something about the way parliament and government function in the national capital.
They were led, in their singing, by a small, fairly elderly black fellow (or maybe I should say "Afro-Canadian" to be fully politically correct). He had a natural, pleasant and happy way of drawing the music out of the group.
"That's Bernie," Fran told me. "He is almost 80."
"Bernie who?" I asked, wondering where I had seen this fellow somewhere in the distant past.
"Bernie Smith" was her reply.
"You mean the Bernie Smith? The one who led the singing for years at the great Inter-Varsity Christian Fellowship Urbana missions conventions?"
"The one and the same," came Fran's response.
(Just one caveat: I have slightly reconstructed the above dialog for the sake of brevity. But what it contains is totally accurate.)
I chatted with Smith and his wife Margaret, after the rotunda event, asking them what it was like teaching Inter-Varsity hymns of yesteryear to these 21st century young people.
"They enjoy it," Bernie replied, leaving me with the clear impression that he would expect nothing less.
To this long-time-ago alumnus of the Inter-Varsity/Inter-School Christian Fellowship (IVCF and ISCF), the juxtapositioning of these movements on Parliament Hill was more than a little significant.
The home-schooling movement exists because parents — mostly with Judeo-Christian values — are not satisfied that their children receive an adequate or spiritually-edifying education in the public system.
Bernie Smith, for his part, has been long associated with a movement that has had considerable success at supporting Christian young people in public high school and university settings. And a few thousand Canadians, as well, can trace their original Christian commitments to IVCF, ISCF and their Pioneer Camps.
The National House of Prayer (NHOP) has been quietly working, for the past few years, at getting Christian people – young and old – to examine our parliamentary democracy at close range. In the process, they have gotten these people to pray for what goes on in Ottawa, hoping that their prayers make a difference.
* * *
Besides the 23rd Psalm, two of the songs included in the rotunda concert were questions: Who is on the Lord's side? and Who saved us from eternal loss? Implicit in the words was an invitation to the listeners to consider gospel claims and apply them in politics and life.
I won't name them, but can tell you that at least two politicians were listening closely to the singers and their words. One was a government member, the other, from the official opposition. I know enough about each of them to be able to say with some certainty, that they sincerely grapple with gospel values.
I hear often from Christians who believe faith influences are marginalized in the political corridors. People like the New Life Singers give lie to that belief.
Their song, I would argue, was not in vain.
* * *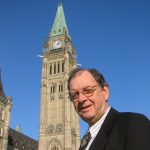 Lloyd Mackey is a member of the Canadian Parliamentary Press Gallery in Ottawa and author of Stephen Harper: The Case for Collaborative Governance (ECW Press, 2006), More Faithful Than We Think: Stories and Insights on Canadian Leaders Doing Politics Christianly (BayRidge Books, 2005) and Like Father, Like Son: Ernest Manning and Preston Manning (ECW Press, 1997). Lloyd can be reached at lmackey@rogers.com.