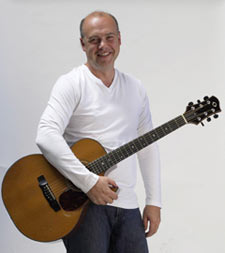 Based in Abbotsford, BC, Brian Doerksen has been one of the leading writers of contemporary Christian music over the last 20 years, producing songs such as 'Come, now is the time to worship,' 'Hope of the nations,' 'Faithful One,' 'Refiner's Fire' and 'Hallelujah (Your love is amazing).' His Holy God CD was awarded the 2008 Juno Award for Contemporary Christian/Gospel Album of the Year.
In part one of this two-part interview, Doerksen discussed his Juno Award and the place of worship music in the contemporary music world. Here, in part two, he discusses a variety of issues involved in the writing of contemporary Christian songs.
CC.com: In a recent interview in Servant magazine, you talked about songs that express laments. It seems that on Good Friday we sing hymns because so much of contemporary music is celebration and so little of it is a lament for the brokenness in the world. Is that a fair observation?
Brian Doerksen: A very true and accurate observation and one that I have been speaking into for the last five to ten years. Every single time I teach worship songwriting, I plead, "Let's bring the whole experience of life into worship like the Psalms do. Let's bring in all of our emotions — from our grief to our joy." I find myself being a very lone voice in the modern worship world. I have to fight with my publisher sometimes to even include in a recording a song that has any component of lament. We have such a long way to go in this area, maybe because it's way easier to write an upbeat song of praise and thanksgiving. Maybe it's way harder to have the kind of honesty and transparency to write a lament. Maybe we have the words of so many pastors echoing in our hearts that to sing a lament is to bring a complaint and that we should stop whining. We don't understand what a biblical lament actually is, and so we don't engage in it in our churches. The last several years, I'll gather several hundred worship leaders and ask them, "How many of you can remember the last time in your church you sang a lament?" Not one person has ever put up their hand. Not one. Isn't that unbelievable? Theologians say the Psalms are at least one-third lament, and we used to sing our way through the metrical Psalms all the time as a church. In my recent concerts, I have five psalms that I have done new musical settings for. I will say, "Those of you who are here tonight come from varied backgrounds. Some of you are grieving. Some of you are celebrating." The Psalms hold all of those emotions together, and I take them on a mini journey through the Psalms through those five Psalms. One of them is a total lament, and one of them is a hymn. I'm getting this amazing response from people as if it were something new. This is really simple and really old stuff.
CC.com: Is part of the problem that a lot of the modern songwriters are young and they haven't experienced enough?
BD: That's definitely part of it. In the music business, it's the young and sexy that get heard. You'd think that would be totally different in Christian music and it's actually not. Joyce and I recently were in California with some people connected with Joni Eareckson Tada and her ministry called Joni and Friends. This pastor got up and spoke, and he had two deaf daughters. We sat there and listened to his biblical teaching, and we were so touched because here was a man who had gone through trial, disappointment, questioning God, all the difficult things that any of us who have special needs children go through. Because he had gone through some of those things, when he communicated with us, there was a depth to it. I hear worship writers saying, "I've got to write some songs for my new record." I scratch my head. "Write songs for a record? Why don't you write songs that express your life? Why don't you write songs to serve your local church? And then when the fruit is mature, when you've got a bunch of songs that have obviously been connecting with people, then put out a record. Why don't you do it that way?" Writing is a servant act for those that you're in relationship with. I know, I'm an idealist. I'm 42, and I'm still an idealist.
CC.com: That sounds a lot like Christian novelists who write because they are under contract.
BD: There's nothing new under the sun. In every field of ministry or communication, I'm sure we're struggling with a lot of the same things. It's human nature. Don't get me going too long on the whole lament and "there's just one type of song" issue. I just taught a songwriting course that's going to be released on DVD by the summer. It's a 10-hour course to train worship songwriters that people can take at their own pace on their own computer. There I spent a whole chunk of time just going after this issue. Where are the laments? Where are the transparent songs? As writers, we are called to hold out God's truth and our truth. Some worship leaders say we shouldn't even include our truth. It should just be the truth about God. There are absolutely times to sing a song that has nothing to do with us or our perspective. A song like 'Holy God' is that type of song. It's a song simply about the character and actions of God. But when Jesus spoke to the woman at the well, he said the Father is looking for worshippers who will worship in spirit and truth. I believe it's God's truth, but he was also saying to this woman, "I know who you really are, and I want you to come to me as you are and worship instead of coming as you think you should be or pretending that you're somebody that you're not." So, I want songs that are full of God truth, that point us to God. But they have to be expressed from the vantage point of our truth because to not express our truth in the presence of God completely takes away our humanity. The various writers of the Psalms knew that. They came into the house of God, they poured out their humanity in the presence of God, and that's how they were healed, that's how they were set free. It wasn't: "I wonder what God would like to hear today?" It was: "What do I need to express to God?" They get to that point in the Psalms where they say, "I trust," but they start where they are. It feels nuts to me to even have to be stirring that up because it seems so obvious to me.
CC.com: Sometimes in contemporary Christian music, the songs seem to be about how faithful we are to God instead of about God's faithfulness. We become the actors rather than God.
BD: I've actually noticed that in a number of songs. I have pleaded with songwriters, "Let's not spend all of our time singing about what we're doing or we're going to do." Now, I think there is a time and place for that. The Psalmist said, "Why are you so downcast, O my soul?" There's a time to speak to yourself and try to lift yourself up and say, "Come on. You can do this. You're called to do this. God's going to come through for you." But to spend all of our time and energy singing about what we're doing… The scary thing as a writer is you have this sense about things and you think, "I need to express this." You put it out there, and then everybody can start analyzing it and shredding it. In the moment, it felt like the right thing, and then after a season of time you look back at it and say, "That one just doesn't have the depth." I think what you're saying could very well be one of the key reasons why we've lost where the focus should be in worship. For me, that's the God truth expressed from the vantage point of our truth.
CC.com: John Bell of the Iona community is coming to your home town of Abbotsford, BC to do a worship conference May 23 – 24. You and John are well recognized worship leaders but have very different styles.
BD: I know of him, and I know of the Iona community. I am in eastern Canada that weekend, but when I saw he was coming, I would have loved to have gone and seen what was cooking. When we went through the collapse of the musical The Father's House in 1996, I was so broken and confused. I found myself being incredibly drawn to the liturgical, contemplative expressions of spirituality, both in prayer and in music, the Taize, and I actually wanted to make a little bit of a shift in that direction. I just loved the thought of being in the midst of things that were more ancient, that weren't so contemporary. I started to go that way, and the Lord made it abundantly clear to me, both in my own heart and through my wife and some very good friends, that that wasn't the path he had for me. The Lord made it very clear to me at that point, "I've called you into a more contemporary expression, but I want you to bring what you see as the timeless God truth into that." I have an immense respect for Cathy Hardy, who's a musician in Mission, B.C. and does the local Taize services. She's got an album out of Taize music. It deeply moves me and personally renews me, but it's not what God has called me to do. So I can cheer them on from the sidelines: "That's fantastic. Go for it." I think we need people who find fresh ways of expressing God's truth in every musical style. We need diversity. I say that still believing what I said before that at the core we need folk songs, songs that people can participate in. My brother is an Anglican priest in Moose Jaw, and he loves that world. I love visiting that world, and I can see so much good in it. It's just not where God has called me to live.
CC.com: There have been "music wars" in many churches over music styles.
BD: I think the music wars start when people lose touch with the heart, when it becomes about the externals and about performance. Then we start noticing all the ways we're different. That's why when I do my interdenominational city-wide worship concerts in Lethbridge and Red Deer and Edmonton, there are people of every generation present. There are grey-haired people, and there are teenagers, because when people want to love God and express their heart to God, the musical style is less important. I think often it's a smokescreen or a mask when people start complaining about the style. They're hiding issues of their own, or they're sensing something in that other music that isn't serving them. I think it's about serving and the heart. I haven't been in a local church context that has had a music war for over 20 years, so it's a little bit of a distant memory for me. We're at a church called The Bridge, a nondenominational church planted two years ago. We have seven or eight different worship leaders, they're all slightly different, but we all share the same heart, and there's zero issues about it. But I did grow up in the middle of the wars. My dad was involved in a gospel quartet, and sometimes when I'm out doing my events, I bring my dad along as a special guest. I've even had the whole gospel quartet join me in certain concerts. It's been really fun watching the teenagers sitting at the front tilting their heads a little bit and thinking, "That's different." But the heart is the same, and they love it. People are looking for heart connection, and when the heart connection's there, the musical style is just not a huge issue. I am a bit of an idealist in that sense. I think it's possible that we can have multiple styles working together, joined by the heart.
CC.com: Besides the DVD course on songwriting, what else are you involved in these days?
BD: We're working on a major musical again, based on Luke 15. It's the journey of the prodigal son but seen through the eyes of the elder brother. I've written 20 new songs for that. We're also in the middle of a new recording. Life is good and overwhelming all at the same time.