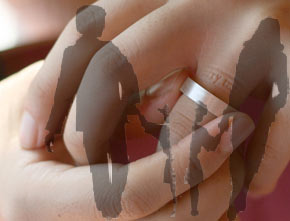 The Vanier Institute of the Family has released a study that shows divorce rates in Canada have declined markedly since the 1990s.
Divorce rates peaked in 1987, according to the study, entitled Divorce: Facts, Causes and Consequences. Rates declined steadily until 1997, and have held at the lower level since then. The study shows rates of conjugal violence also declined between 1993 and 2004.
Yet about one third of divorces involve the dissolution of marriages that might be categorized as average to good, the study says. "Studies also indicate that a sizeable proportion of marriages that end in divorce were actually quite 'salvageable,' even happy, and that many ex-spouses are not better off after."
The study concludes that while divorce may be necessary in some circumstances, it is an adult institution that is not always in children's best interests.
Across Canada, marriages taking place today have a 38 per cent risk of ending in divorce by their 30th anniversary. The study debunks the popular statistic that one out of two marriages ends in divorce, a rate that was accurate for the United States in the 1980s.
"This peak time statistic has 'stuck' in the media and in our imagination," writes study author Anne-Marie Ambert of York University.
Rates of divorce vary a great deal regionally, however, with the lowest rates in Newfoundland and Labrador at 21.6 per cent and the highest in Quebec at 48.4 per cent.
But the author explains the divorce rates could be lowering because there is a decline in the number of people marrying, and divorce rates do not reflect the rate that cohabiting couples break up.
"Except for Quebec, divorce rates have come down substantially since the 1990s," the study concludes. "But, at the same time, marriage rates have come down — thus reducing divorce risk — while cohabitation rates have risen, especially in Quebec."
"Therefore, couple dissolution in general has certainly not decreased and may actually have increased," the study finds.
The study points out first marriages are less likely to end in divorce than second or third marriages. In Canada, 20 per cent of divorces involve second or third marriages. The average divorce age for men is 44 and for women 41.4, but that age may rise since people are marrying later. In Canada in 2005, the marriage age for men averaged 29.5 and for women 26.9; in 2007 in Quebec, the average marriage age for men and women was 32 and 30 respectively.
The study analyzes factors that have contributed to divorce, such as liberalized divorce laws; the decline of religious belief leading to the "desacralization" of marriage; and individualism's emphasis on personal choice, happiness and rights rather than duties.
These trends have created a lower tolerance threshold for marriage difficulties, the study says, adding more is expected of marriage, but people are less willing to "shoulder the sacrifices it might require."
The study also blasts the idea that cohabitation before marriage leads to fewer divorces. "Couples who first cohabit are less religious than those who marry without cohabiting," Ambert writes.
"If couples who are both less religious and less committed to each other and to the institution of marriage cohabit and then go on to marry, it is not surprising that they will have a higher divorce rate — a phenomenon which is particularly relevant to Quebec where religiosity is very low in terms of church attendance and cohabitation is generally chosen as a first union," the study says. The study shows a correlation between religiosity and marital happiness.
The report says evidence shows poverty increases the risk of divorce, just as divorce increases the risk of poverty for women and their children. Men who divorce lose far more economically than they did in the past, especially in cases where both members of the couple are breadwinners.
Children whose parents divorce are more likely to suffer from emotional disorders such as anxiety or depression; to exhibit behaviour problems; to become young offenders; to do less well in school; and to experience more relationship problems.
Adults whose parents divorce are more likely to have a child out of wedlock; to attain lesser levels of education; to be unemployed or do less well economically; to divorce or have marital problems; and to report a less happy childhood. The author cautions, however, that some of the problems may have been experienced by the children of divorce before the relationship break up. She also points out that poverty may also be a factor in many of these negative effects as well.
"Most children of divorce experience a certain level of distress, which often lasts for over a decade," the study says. "For instance, they miss the other parent and, when little, they may feel that they are partly to blame for the divorce; some desperately try to get their parents together again; they are sad; some cry a lot while others lash out and develop behavioral problems."
Courtesy of Canadian Catholic News. Please do not reprint without permission.