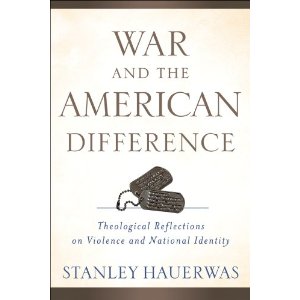 There is perhaps nothing I like less over Christmas than hearing "Happy Christmas" by John Lennon. I dislike this because it is about a world where war is inconceivable because love is inconceivable. This having been said, it is not as if Lennon is speaking outside longstanding Christian tradition. From the angels' declaration, through Milton's nativity ode, through Tennyson's pallid " I heard the bells on Christmas day," the theme of peace resonates through Christendom and its remnants. But the perennial questions remain, "What do we mean by such peace in a world torn by war and pain? And if we are to seek peace, how are we to avoid the flaccid and nihilistic peace of thinkers like Lennon.
I have been thinking a lot about these questions while reading Hauerwas's new book, "War and the American Difference." According to Hauerwas, war is the liturgy that dictates the ethos of nation states, particularly the U. S. But Hauerwas's response to this is not that we should stop caring about things enough to kill and die for them; rather we need enough Christlikeness to be patient in the Latinate sense – suffering each other rather than solving things by killing each other.
It is a fitting message for us at a time when we traditionally gather around tables with people we may not like or get along with; Christmas peace must mean graciously suffering their presence; and even more, it means permitting them to suffer ours. Hence, I wish you all a peaceful Christmas, in the most dynamic sense of the word.
For the next 23 days, I will be posting reflections on Christmas and Christmas culture as a way of counting down Advent. My posts will orbit about two themes: the primary reason for Christmas, the coming of Immanuel (God with us); and the odd and bizarre way that Christmas culture relates to this advent. These posts are informed by G.K. Chesterton's analysis of Christmas and Dickens. See Chesterton on Christmas in my notes, from his biography of Dickens.