In the interests of full disclosure: Senator Meredith took me on as his communications advisor for a few months, after my main source of earned revenue largely disappeared, last January. So I feel comfortable offering some analysis of his November 30 press release in which he urged private sector involvement at Attawapiskat.
Meredith has many skills and passion, focused on that triple-level experience as a pastor, business person and community activist. He deserves some listening ears in the right places.
As a Pentecostal pastor, he has developed, to a fine point, the ability to exhort. Exhortation is a style of preaching that could best be described as encouragement with a bit of authoritarianism thrown in, so the listener does not miss the point. It is the part of a pastor's oft-stated duty to "comfort the afflicted and afflict the comfortable."
In the biblical book of 1Timothy 6:18, St. Paul advises a young up-and-coming pastor to "exhort (people of wealth) to be rich in good deeds and to be generous and willing to share."
Meredith used this exhortative skill in his press release in which he urged private sector business to get involved in Attawapiskat.
Here is the way he put it:
The Government, through the Department of Aboriginal Affairs, welcomes outside partnerships to assist First Nation people and communities like Attawapiskat. This is a clarion call for the private sector to come in and invest in these communities. Unless the private sector supports the work of the Government and local and provincial leaders it will be difficult to achieve sustainable economic development.
Meredith's release took a different twist from some of the other declarations. Some of the debate has had those calling for social justice exchanging barbs with others who feel that Attawapiskat should be shut down and its residents moved out. The latter critics maintain that many  First Nations settlements are not financially feasible.
Meredith was the first among Ottawa voices to actually target one particular economic sector with a challenge to invest in First Nations communities.
It should be noted, in fairness, that people and corporations being invited to invest in northern communities – First Nations or otherwise — need to know that their money is not going down a bottomless pit.
That said, Meredith's own background permits him to offer a viewpoint with considerable merit. Before his appointment to the Senate, one year ago, he demonstrated social leadership in some, at-times tumultuous, street communities in Toronto. And he did so while demonstrating a willingness to partner with people who have perspectives different from his.
To wit:
He has supported his family and faith activities through the development of a small but sound landscaping business. And he permitted it to become unionized because that was seen as necessary to get larger and more viable landscaping contracts in some of Toronto's highly-organized labor market sectors.
He developed GTA Faith Alliance to help his fellow religious leaders of Christian, Jewish, Muslim and Sikh persuasions, among others, to recapture alienated young people from self-destructive lifestyles. That despite the fact that some of his fellow Christians have cautioned him from working too closely with other faiths.
He keeps close communication with people in other political parties and ethnic groups to build opportunities to draw on his own and others' experiences. (He himself is Jamaica-born and of Afro-Caribbean extraction.)
The strength of Meredith's exhortation is two-fold. It rests in the fact that he is high-pointing the need for economic sustainability in First Nations communities. From there, it flows directly into his challenge to the business sector – a part of the community often left out of government thinking, except when it comes to collecting taxes.
*  *  *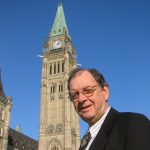 Lloyd Mackey is a member of the Canadian Parliamentary Press Gallery in Ottawa and author of Stephen Harper: The Case for Collaborative Governance (ECW Press, 2006), More Faithful Than We Think: Stories and Insights on Canadian Leaders Doing Politics Christianly (BayRidge Books, 2005) and Like Father, Like Son: Ernest Manning and Preston Manning (ECW Press, 1997). Lloyd can be reached at lmackey@rogers.com.

Senator Don Meredith, a Toronto pastor, business person and dampener-down of youth violence, is urging the private business sector to support efforts to resolve long-standing problems at the Attawapiskat First Nation.