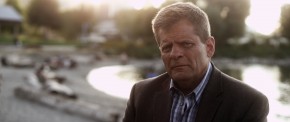 "Dear Jesus, I want you in the center of my life and commit through your power, to serve and obey you – anytime, anywhere, at any cost, to do anything."
What's your reaction to this prayer? Excitement? Fear? Guilt? Hope? Irritation? Many Christians wrestle with the no-holds-barred commitment these words express. According to Leonard Buhler, president of the Langley-based Christian organization Power to Change, that is exactly the point.
"We want to put a fork in the road for Christians," says Buhler, who chose this provocative prayer as the foundation for The Life, a new initiative being developed by Power to Change. Buhler's dream for The Life is that one million Christians across Canada will pray these words—and really mean them. He can clearly picture what this kind of commitment looks like in a person's life: an action-oriented love for God and people coupled with a passion for talking about Jesus.
It's this last item that Buhler suspects will be difficult for many Christians to embrace. He is the first to admit that in today's Canadian context, evangelism is no easy thing. Sacrificial obedience – the kind Jesus referred to when he said those who want to be his disciples must deny themselves, take up their cross daily and follow him (Luke 9:23) – is challenging enough in a busy, self-oriented culture. Add to that the fear of coming across as preachy and intolerant, and the result is that very few Christians are excited to talk about Jesus with people outside the church.
With that in mind, Buhler's team launched the 35-Day Challenge. An online program, the 35-Day Challenge is designed to help people get started with Christ-centred, people-centred living. The Challenge walks people through a five-week process of introducing three non-Christian friends to Jesus in the most natural way possible. Daily action steps, videos, exercises and encouragement help participants learn and practice a style of evangelism that is intentional but not pushy, a conversation rather than a sermon.
By the end of the 35-Day Challenge, Buhler hopes people will be excited to join the Life and commit to a lifetime of helping people experience the love of Christ. Those who do will be welcomed into an online community (thelife.com) where they will receive regular outreach tips, encouragement, and the opportunity to share their questions and stories.
The Life's full launch is not scheduled until the fall of 2012, but some Christians are already making The Life commitment. Eugene, a health-care worker and member of Lighthouse Christian Church in Surrey, British Columbia, prayed that prayer on a Sunday morning last August when Buhler challenged the congregation as a guest speaker. With his prayer fresh in his mind, Eugene met a hospital patient who was at the end of his life. Part of Buhler's talk that Sunday was dedicated to the Soul Cravings strategy — a simple approach designed to connect with people's universal longings for destiny, intimacy and meaning. Eugene shared the gospel, and, to his astonishment, the patient and his entire family put their trust in Jesus.
It's not just people in hospital beds who need Jesus. When Buhler looks at Canada, he sees millions of people without hope. "Each day," he says, "we come into contact with person after person who is struggling, desperate for help, searching for more." To see your friends, your family, your colleagues being transformed by God's love – that's a dream worth pursuing at any cost.
Buhler goes on to say, "When you lay down your life for others, that's what makes nations great. That's what makes marriages great. That's what builds communities. That's what changes the world." His dream is that The Life will change the spiritual direction of Canada, one person at a time.
To find out more about the 35-Day Challenge and The Life initiative, visit 35DayChallenge.ca and thelife.com