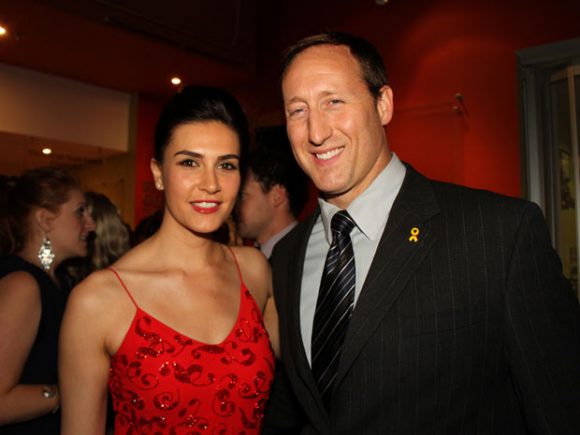 It was fascinating to watch the little dustup between Nazanin Afshin-Jam MacKay and Charlotte Guardian reporter Jim Day last week, over what is sometimes called, in the journalistic trade, "the torque of the story."
Simply put, to torque is to twist the story from what subject initially intended to what the reporter wanted it to be.
Day interviewed Afshin-Jam MacKay, an Iranian-born human rights activist who recently, by the way, married Defence Minister Peter MacKay. She was being interviewed, apparently, because she has a new book out, Tale of Two Nazanins, about the efforts of her human rights organization, Stop Child Executions, to rescue an Iranian rape victim from being put to death. The other Nazanin's crime: she had killed her attacker.
But the reporter twisted the interview, so to speak, by getting Afshim-Jam MacKay to express an opinion on that Canadian citizen Omar Kadhr, who is being held in Guantanamo Bay for killing an American soldier in Afghanistan. Day quoted his interview subject as favouring Kadhr's early return to Canada to serve the rest of his sentence.
Afshin-Jam MacKay was unhappy with the story resulting from the interview on three counts:
It appeared, in her view, to be an attempt to get her to express an opinion contrary to the present stance of the government in which her husband is a cabinet minister.
It ignored, for several paragraphs, the fact that she has a name and a background of her own, apart from her marriage to a Canadian politician.
It virtually ignored that one of her main "jobs" at the moment is helping encourage sales of her book, in the interests of greater human rights for Iranian women.
*  *  *
Afshin-Jam MacKay is entering into a phase of life that could well have been predicted when she married MacKay. She has been quoted frequently in recent weeks on human rights matters, often from an angle that seems intended to put her in philosophical conflict to the government of which her husband is a part. So far, it is emerging that she is respected both for her own opinions and for the fact that she and her husband complement each other.
My own experience in covering the Afshin-Jam MacKay story came out of the sort of approach I have taken in recent years in trying to cover the faith-political interface.
As OttawaWatch readers will be aware, I have been reporting faith-political nuances for most of my journalism career, including the last 14 years in Ottawa. And it has always been interesting to me how a fairly simple faith-based story about a politician with the exercise of a little journalistic torque, can turn into one of political intrigue.
Lawrence Martin did a pretty good "torque" job today (July 31) in the Globe and Mail when he tackled the six-year-old story of Prime Minister Stephen Harper's long time careful and generally constructive rapport with Christian and Missionary Alliance churches. As the one who did some of the early reporting on this connection, I would suggest that Martin's coverage is like the fable of the fellow who caught the big fish. The size of the fish grows greater with the telling.
Not to disparage Martin. He is a great story teller.
But to get a less-torqued version, it is worth reading a Maclean's piece on the subject written shortly after the January, 2006 election when the Conservatives were first elected with a minority. Here is the link: The Church of Stephen Harper.
*  *  *
There are a couple of faith-political interface stories I would like to tell before shuffling off this mortal coil. But I am not holding my breath, because the subjects are smart enough to ensure they are talking to a journalist who will not torque the story.
One is British Columbia premier Christy Clark, who did a couple of years of religious studies at the University of Edinburgh (UE) before going into politics. UE is roughly equivalent to Regent College, the evangelical graduate school at the University of British Columbia. Somehow, I think that her current perspectives might have been shaped in part from that study experience.
The other is Saskatchewan Premier Brad Wall. He is fairly seriously and devoutly connected with a Mennonite Brethren congregation. To those who know him well, his faith and practice is real, but he is careful where he talks about it and with whom.
Both have stories to tell, I am sure. But best, for now, to watch the lives they live and try see if faith and governances match up.
*  *  *
To wrap, with Afshin-Jam MacKay: she has something to say that she has earned in her own right, and much of it has to do with a solid grounding in biblically-based social justice, learned in a Catholic setting. And she has married a practicing Presbyterian who will admit, cautiously, when appropriate, that he appreciates the pastoral care he receives.
I hope I have learned a few things over 14 years about when to cover something myself, in my semi-retirement, and when to pass it on to other journalists who might be able to give a little more energy.
At the time of her marriage I read an excerpt from a talk Afshin-Jam MacKay gave in 2009 at the BC Leadership Prayer Breakfast. I chose to pass it on to Charles Lewis, the faith/ethics writer at the National Post, feeling sure he would tackle the story straight, rather than torque it. I never heard back.
But that does not mean the NP ignored whatever clues they had received. This year, she spoke at the National Prayer Breakfast in Ottawa. And the Post did pick up on the story – without torque – by astutely having columnist Father Raymond De Souza, the other speaker at the prayer breakfast events, effectively summarize what she had to say.
No further comment is necessary, except to suggest to those of my readers who covet the opportunity to pray: I would encourage you to cover MacKay and Afshin-Jam MacKay with your prayers, as the still-newly-weds walk their faith pilgrimage together. A lot of what is happening with them is none of the political world's business. But, given goodwill and pastoral care, what they do together and separately can make a difference to the Canadian faith-political interface.