[Updated October 2009] By Sol O. Mann
U2, the biggest act in stadium rock, wrapped up the last leg of its 2009 North American 360 Tour in Vancouver, British Columbia on October 28. Three days earlier, the band performed at the Rose Bowl: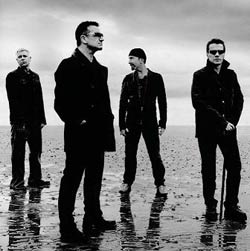 U2 will be back on the road touring North America and Europe, beginning June 2010.
Bono: When Christ was on earth he spent all his time with ordinary people, trying to give them something. I don't see any audience as being full of antichrists, you have to look beneath the surface. There are probably more people like that in a church on Sunday. The audience cannot be oblivious to the spiritual side. People usually just sweep it under the carpet, but it's there in their heads. (NME, Feb.1982)
Bono's faith: It is what gives me the strength to get up every day and put forth a hundred percent of my energy. –Bono (Musician, May, 1983)
Christians are hard to tolerate, I don't know how Jesus does it… I'm one of them. –Bono (Bono's Jubilee 2000 Diary)
People seem to think Christians are incredibly pious, arrogant, superior individuals, but that's not true at all — I'm a very normal, very real person. -–The Edge (Star Hits, Spring 1985)
I am a Christian and not ashamed of that. But trying to explain my beliefs, our beliefs, takes away from it. I have more in common with somebody who doesn't believe at all than I do with most Christians. I don't mind saying that. –Larry Mullen (Time, April 27, 1987)
[Adam] Clayton, who alone has not announced formally for Christianity, says simply that for journalists, 'religion was an easy angle, a hook to hang a story on. We all believe in much the same things but don't express ourselves in the same way.' (Time, April 27, 1987)
Questions:
In what year did U2 release its first album, "Boy"?
According to Beth Maynard, co-editor of "Get Up Off Your Knees: Preaching the U2 Catalog", what musical pairing on "Boy" was "U2's very first foray into leading listeners musically through an experience of sin and redemption"?
This member of U2 told journalist Terry Mattingly in 1982:"I really believe Christ is like a sword that divides the world, and it's time we get into line and let people know where we stand. You know, to much of the world, even the mention of the name Jesus Christ is like someone scratching their nails across a chalkboard." Who said it?
This 1983 song ends: "The real battle just begun/To claim the victory Jesus won/On…" Name the song.
The song "40" is directly based on what Old Testament scriptures?
From "Pride (In The Name of Love): "Early morning, April 4/Shot rings out in the Memphis sky/Free at last, they took your life/They could not take your pride". To whom does this refer?
What U2 album title is a subtle reference to the cross of Christ?
In the "Rattle and Hum" documentary (1988), U2 holds up traffic by performing an impromptu version of a Dylan song on a flatbed truck. Name the song.
While in New York City, U2 visited Harlem and sang "I Still Haven't Found What I'm Looking For" with a church choir. Name the choir.
From "God Part II": "Heard a singer on the radio/Late last night/Says he's gonna kick the darkness/Til it bleeds daylight./I, I believe in love." Who's the singer Bono is referring to?
In this 1989 book Bono remarks: "You know the Christ I read about in the Gospels is steel not straw." Name the book.
This song on "Achtung, Baby" (1991) includes the lyric: "If you want to kiss the sky/Better learn how to kneel". Name the song.
At the 1993 Greenbelt Christian Arts Festival, Willie Williams — U2's show designer — phoned Bono from the main stage. Williams asked Bono if he had anything he wanted to say to the audience. What was Bono's reply?
What book by C.S. Lewis was the inspiration for Bono's onstage "devilish" persona, MacPhisto, during the ZooTV tour?
This U2 tour program contains an image of an angel holding a sign on which Psalm 34:7 is printed: "THE ANGEL OF THE LORD ENCAMPETH AROUND ABOUT THEM THAT FEAR HIM AND DELIVERETH THEM." What tour was the program from?
This song includes the lyric: "Lookin' for to fill that God shaped hole". Name it.
BBC host Chris Evans once asked Bono what he'd sing if it was the last song of the last show. What song did Bono pick?
On the album cover of "All That You Can't Leave Behind" (2000) what scripture is visible on the airport gate-sign?
From: "Beautiful Day": "See the bird with the leaf in her mouth/After the flood all the colours came out". According to Genesis 8, what type of bird was it?
What U2 song was played to Joey Ramone on his deathbed?
The London Sunday Times Magazine (Sept. 29/01) mentions that Bono and Noel Gallagher (from the band Oasis) had a long conversation about faith. A few days after the conversation, Bono sent a package to Gallagher and his girlfriend Sara that included a book by Philip Yancey. Name the book.
In a 2002 interview with the Chicago Sun-Times, what did Bono call "the new leprosy"?
In the foreword to this 2003 book, Eugene H. Peterson (Professor Emeritus of Spiritual Theology, Regent College, Vancouver, B.C.) writes: "Is U2 a prophetic voice? I rather think so. And many of my friends think so. If they [U2] do not explicitly proclaim the Kingdom, they certainly prepare the way for that proclamation in much the same way as John the Baptist prepared the way for the kerygma of Jesus." Name the book.
According to Darleen Pryds (a professor at the Franciscan School of Theology) this U2 song "is played at GenXer funerals and GenXer weddings." Name the song.
In May 2004, what Illinois pastor visited U2 in their Dublin studio, and at the band's request led "a time of prayer for them, their families and the [How to Dismantle] CD project"?
In June 2004, Bono reportedly asked singer Michael W. Smith: "Do you know how to dismantle an atomic bomb?". When Michael said "no", Bono answered his own question with what answer?
Bono told Robert Hilburn (Los Angeles Times): "We can be in the middle of the worst gig in our lives, but when we go into that song, everything changes… The audience is on its feet, singing along with every word. It's like God suddenly walks through the room. It's the point where craft ends and spirit begins. How else do you explain it?" Name the song.
What song on "How To Dismantle An Atomic Bomb" (2004) uses the Hebrew word for God?
The back cover of this 2005 book includes a quote from Bono: "The Left mocks the Right, the Right knows it's right. Two ugly traits. How far should we go to try and understand each other's point of view? Maybe the distance grace covered on the cross is a clue." Name the book.
In March 2005, this U2 member told George Varga (San Diego Union-Tribune):"… on this record in particular, [How To Dismantle An Atomic Bomb] we really complete the journey from fear to faith, and that's sort of the way the running order on the record goes, from 'Vertigo' through to 'Yahweh.'" Who said it?
This song on How To Dismantle An Atomic Bomb includes the lyrics: "As you enter this life/ I pray you depart/With a wrinkled face/And a brand new heart". Name it.
Brian Hiatt reports in Rolling Stone (U2: Live From Outer Space, Oct. 15/09) that every show on U2's 360 Tour begins roughly the same way: a segment of an unreleased U2 song blaring over the PA, and Larry Mullen walking onstage alone. Name the song.
Who took the photograph that appears on the cover of "No Line on the Horizon"?
What NLOTH song was inspired by Mary's Magnificat in Luke 1:46-55?
During what song performed on Late Show With David Letterman (March 4/09) does Bono assume the arms-raised position [orans] a priest takes at the altar?
On the song "Moment of Surrender"Bono mentions "vision over visibility". In what year did Bono first use the phrase on television?
What NLOTH song references Jeremiah 33:3?
This song concludes: "Hear me, cease to speak that I may speak/Shush now/Oh, oh/Then don't move or say a thing." What song?
On "I'll Go Crazy If I Don't Go Crazy Tonight", Bono asks: "Is it true that perfect love drives out all fear". What Bible verse is Bono referencing?
On this song we hear Bono's urgent plea: "God, I'm going down/I don't want to drown now." What song?
On the song "Stand Up Comedy", what three things does the singer stand up for?
What's the last line of "Fez–Being Born"?
What song refers to the "16th of June"?
What song's melody is based on the hymn, "O Come, O Come Emmanuel"?
What song closes No Line On the Horizon?
Answers:
1980. One of the most notable songs on the album is "I Will Follow". The chorus: "If you walk away, walk away/I walk away, walk away/I will follow" is reminiscent of Ruth 1:16: "But Ruth replied, 'Don't urge me to leave you or to turn back from you. Where you go I will go, and where you stay I will stay. Your people will be my people and your God my God."
"An Cat Dubh/Into the Heart." Maynard continues: "The sin portion of the pair, 'An Cat Dubh,' has an attractiveness-of-evil theme that fits with 'Vertigo.'… The redemptive portion of the pair, 'Into the Heart,' is about rebirth, about becoming an innocent child again. HTDAAB: 'I'm at the door of the place I started out from and I want back inside.' Enough said."http://u2sermons.blogspot.com/2005_03_01_u2sermons_archive.html#111140990262562208
The Edge, in CCM Magazine, August 1982, p.24Revelation 1:16-18: "In his right hand he held seven stars, and out of his mouth came a sharp double-edged sword. His face was like the sun shining in all its brilliance. When I saw him, I fell at his feet as though dead. Then he placed his right hand on me and said: 'Do not be afraid. I am the First and the Last. I am the Living One; I was dead, and behold I am alive for ever and ever! And I hold the keys of death and Hades.'"
"Sunday Bloody Sunday", from the album "War" (1983)
Psalm 40: Bono begins: "I waited patiently for the Lord/He inclined and heard my cry/He brought me up out of the pit/Out of the miry clay/I will sing, sing a new song/I will sing, sing a new song…"However the next line, "How long to sing this song", was adapted from Psalm 6:3.From Bono's introduction to "The Book of Psalms" (1999): "Psalm 40 is interesting in that it suggests a time in which grace will replace karma, and love will replace the very strict laws of Moses (in other words, fulfill them). I love that thought. David, who committed some of the most selfish as well as selfless acts, was depending on it. That the scriptures are brim full of hustlers, murderers, cowards, adulterers and mercenaries used to shock me. Now it is a source of great comfort."

http://www.atu2.com/news/article.src?ID=668

"The Book of Psalms" is one of nine books of the Bible published individually in Canongate Book's "Pocket Canons" series.

Reverend Martin Luther King, Jr. (1929-1968)http://nobelprize.org/peace/laureates/1964/king-bio.htmlOn April 4, 1968, while King stood on the balcony of his motel room in Memphis, where he was to lead a protest march in sympathy with striking garbage workers, he was assassinated.

Another lyric: "One man betrayed with a kiss".

"While he was still speaking a crowd came up, and the man who was called Judas, one of the Twelve, was leading them. He approached Jesus to kiss him, but Jesus asked him, 'Judas, are you betraying the Son of Man with a kiss?'" (Luke 22:47-48)

"The Joshua Tree" (1987). Joshua is an anglicanization of the Hebrew name for Jesus ["Yeshua"] and for centuries the word "tree" has been a term used to describe the wooden cross on which Christ was crucified.
"All Along the Watchtower". In 1968 Jimi Hendrix recorded what is considered by many to be the most notable cover.Some have hypothesized that Dylan's couplet: "Outside in the distance a wild cat did growl/Two riders were approaching, [and] the wind began to howl" may have come from
Isaiah's similarly apocalyptic:

"And the lookout shouted, 'Day after day, my lord, I stand on the watchtower; every night I stay at my post. Look, here comes a man in a chariot with a team of horses. And he gives back the answer: 'Babylon has fallen, has fallen! All the images of its gods lie shattered on the ground!'" (Isaiah 21:8-9)

See also: "Restless Pilgrim: The Spiritual Journey of Bob Dylan" by Scott M. Marshall with Marcia Ford (Relevant Books, 2002)

The New Voices Of Freedom, who had recorded their own version. When U2 heard it, they arranged to sing it with the choir in their Harlem church. This led to the performance in Madison Square Garden seen in the "Rattle and Hum" documentary.John Fischer writes in his 1989 book, "True Believers Don't Ask Why":"Two different recordings of this song were necessary to bring out its full meaning. The first, on the 'Joshua Tree' recording, is somber and plaintive in tone, fully capturing the album's pictorial image, the gnarled silhouette of a Joshua tree standing alone against a desert sky.""The second, on their soundtrack recording, 'Rattle and Hum,' is entirely different. It is performed with a simplified rhythm and a black chorus. The style is entirely gospel and the tone is exalting, jubilant, electrifying."

"I walk away from the first wondering. I walk away from the second with my eyes sparkling like a child's on Christmas morning. In this setting, 'I still haven't found what I'm looking for' takes on a new attitude, as if the whole song reverberates with the question, 'You mean there's more?'"

"Yes. Always."

"Those who are satisfied with what they have, have what they have. Those who keep asking, seeking, and knocking will find more."

"So I [Jesus] say to you: Ask and it will be given to you; seek and you will find; knock and the door will be opened to you. For everyone who asks receives; he who seeks finds; and to him who knocks, the door will be opened." (Luke 11: 9-10).

On the "Classic Albums" Joshua Tree documentary, co-producer Daniel Lanois said, "I've always liked gospel music and I encouraged Bono to take it to that place, which he did. It was a very non-U2 thing to do at the time, you know, to go up the street of gospel, but I think it opened a bit of a door for them and allowed them to experiment with that territory. I think Bono did an amazing job. He's singing at the top of his range, and there's something very compelling, you know, about somebody pushing themselves. It's like hearing Aretha Franklin almost, you know. It just jumps on you and you can't help but feel the feeling."

Bono commented: "I think that if 'I Still Haven't Found What I'm Looking For' is successful, it's because it's not affirmative in the ordinary way of a gospel song. It's restless, yet there's a pure joy in it somewhere." [in "Imagine: A Vision For Christians in the Arts" (2001) pp. 112-113]

Bruce Cockburn, who sings on "Lovers in a Dangerous Time": "When you're lovers in a dangerous time/Sometimes you're made to feel as if your love's a crime/But nothing worth having comes without some kind of fight/Got to kick at the darkness 'til it bleeds daylight/When you're lovers in a dangerous time" — from the album, Stealing Fire (1984)

http://cockburnproject.net/songs&music/liadt.html
"U2: Three Chords and the Truth" (p. 142)Bono: "Well, to me faith in Jesus Christ that is not aligned with social justice, that is not aligned with the poor — it's nothing. How can you read the Gospel of Luke the physician and call yourself a Christian and have health cuts? How can you not work towards the ends of social justice?""One thing I think people forget is how radical Christ was. People were put to death for the idea that all men were created equal, which meant essentially that Jewish peasants were equal to Roman emperors. That was radical. And to me, there's nothing more radical or revolutionary than love–the love two people have for each other for instance. Because it's so hard to find. My version of love is not soft, it's hard. You know, the Christ I read about in the Gospels is steel not straw." (p. 142)
"Mysterious Ways". A letter writer to BC Christian Info (Feb. 1992) comments: "Perhaps the best lyric is from 'Mysterious Ways'…and is the triumphant Christian epitaph of the sixties Man-Is-Wonderful-Drugs-Will-Set-Us-Free ethos. Jimi Hendrix, bless him, wrote the exemplary lyric of the psychedelic age, 'Scuse me while I kiss the sky.' To which absolutely no one else but Bono could reply: 'If you want to kiss the sky… Better learn how to kneel. On your knees, boy!'"Bono sings on "Vertigo": "I can feel your love teaching me how/Your love is teaching me how, how to kneel/Kneel/Yeah yeah yeah yeah yeah yeah…"Psalm 95:6:"Come, let us bow down in worship, let us kneel before the Lord our Maker…"The writer to BC Christian Info mentions another song from "Achtung, Baby" — "Till the End of the World" — calling it "an exquisite presentation of the Gospel account of The Betrayal, where a plain recitation of the biblical account is at the same time a modern believer's realization that he, like all of us, has played Judas. 'In the Garden I was playing the tart… I kissed your lips and broke your heart.' And then, at the most glorious of Christian moments: 'In waves of regret, waves of joy… I reached out for the One I tried to destroy.'"

From: Rock of Ages: The Passion of Judas
http://www.santacruzsentinel.com/archive/2004/April/08/style/stories/04style.htm

"Until the End of the World" makes the Passion of the Christ a truly personal faith journey, taking the listener from the darkness of sin and the tomb "down the hold, just passing time" into an eternity of love with the One that U2 believes would wait "until the end of the world."

Stuart Bailie of NME: "The song Until The End Of The World has the lyric, 'In the garden I was playing the tart/I kissed your lips and broke your heart.' When I hear that, I think of Judas betraying Jesus in the Garden of Gethsemane…"

Bono: "Yeah, well I played Jesus for so long, I decided I needed a break! Judas, from whatever way you look at it, is a fascinating creature, because in one sense, by committing his crime, he introduced us to Grace. It's bizarre."
…
Bono: "I think what we were trying to do with 'The Fly' is to jam a blues verse, however industrial and distorted, up against a gospel chorus, however kitsch. Because the gospel and the blues are again the two sides of the same coin.

The blues was generally, 'Me And The Devil Blues' — having an argument with you. And the Gospel is more affirmative. But they're still centred around the same axis, and that's interesting. I always believed that the blues were like the Psalms, where you had King David giving out to God– 'Where are you when I needed you, my enemies have surrounded me, call yourself God? Where the f— are you?' And I think that's incredible, that dialogue." (NME, June 13, 1992)

"Tell them: 'Everything you know is right.'" And the Greenbelt crowd erupted. ZooTV exposed the postmodern media as a constant flashing of slogans; one of them was: 'Everything you know is wrong.'Willie Williams publishes U2 tour diaries at http://u2.com/tourinfo/?ct_page=willie.html
"The Screwtape Letters" (1942), a series of letters from Screwtape, an experienced devil, to his nephew Wormwood, a junior tempter on his first assignment. Tony Bowden and Jennifer Stewart write in "U2's Mysterious Ways" http://www.tmtm.com/sides/u2.html: "Bono's 'Satan' persona, MacPhisto, has probably raised more Christian hackles than anything else U2 have ever done, with most Christians failing to understand what Bono is up to. In an interview with a prominent Irish paper earlier this year Bono commented that the whole concept of the MacPhisto character was one of mockery – taking his idea from the adage 'mock the devil and he will flee from you.' Such irony and tongue-in-cheek humour is common throughout the work of the band and is a very effective way of bringing people to think about the good and evil in the world. Bono mocks to make his point — and this point is transferred to thousands of people with an effectiveness that preachers can only dream about."U2's animated video, "Hold Me, Thrill Me, Kiss Me, Kill Me", shows Bono crossing a street reading a book. In the background one sees a speeding car headed for him. Bono is knocked to the ground and the book flies out of his hand. A close-up of the book's cover shows it to be "The Screwtape Letters".
http://www.bonoonline.com/gallery/displayimage.php?album=67&pos=25

15. PopMart (1997). Psalm 34:7 is followed by the artist's own words: "TO HAVE PEACE IN THIS WORLD IS TO MAKE PEACE WITH GOD, FOR HE CAN SAVE THIS WHOLE WORLD FROM SIN."
http://www.thunderstruck.org/finster-angel.htm

The angel was a 3-D creation of Georgia folk artist Reverend Howard Finster
http://www.finstersparadisegardens.org

The PopMart stage included the world's largest LED screen (56′ by 170′) that splashed images, colours and bright pop art from Howard Finster, Andy Warhol, Keith Haring, and Roy Lichtenstein four stories high.

Stephen Dalton write: "But elsewhere on Pop (1997), U2's sincere religious beliefs are as plain as ever. Perhaps this is the true, subversive message behind the album's glossy surface: even an earthly paradise only offers insubstantial pleasures. When Bono starts seeking sign so f faith and devotion in this neon wilderness, he finds none….the world-weary closing track 'Wake Up Dead Man', another Zooropa hangover, is an angry prayer to an absent Jesus who will not answer…"

16. "Mofo".

"There is a God shaped vacuum in the heart of every man which cannot be filled by any created thing, but only by God, the Creator, made known through Jesus" –Blaise Pascal (French mathematician, philosopher and physicist, 1623-1662)

From Augustine's autobiography, Confessions, written in A.D. 397 to 401: "You have made us for yourself, and our hearts are restless until they find rest in You."

17. "Amazing Grace", lyrics by John Newton (Olney Hymns, 1779). The PBS program, "Amazing Grace with Bill Moyers" (1990) is available from http://www.shoppbs.org

18. J33-3 (Jeremiah 33:3) "Call to me and I will answer you and tell you great and unsearchable things you do not know." Bono told Rolling Stone (January 18/01): "It was done like a piece of graffiti — It's known as 'God's telephone number'."

19. A dove.

"See the bird with a leaf in her mouth"

Genesis 8:10-11: "[Noah] waited seven more days and again sent out the dove from the ark. When the dove returned to him in the evening, there in its beak was a freshly plucked olive leaf! Then Noah knew that the water had receded from the earth."

"After the flood all the colours came out"

Genesis 9:15-16: "…Never again will the waters become a flood to destroy all life. Whenever the rainbow appears in the clouds, I will see it and remember the everlasting covenant between God and all living creatures of every kind on the earth."
http://christiananswers.net/creation/menu-catastrophe.html
http://www.answersingenesis.org/home/area/faq/flood.asp

20. "In A Little While". On the DVD "Elevation 2001 – U2 Live From Boston" Bono introduces the song: "When we started out we were, I guess, 15, 16, Larry was 14, still is. Ah, the Ramones were the band, and ah, without The Ramones it's hard to imagine that we…we would have felt like we felt about, you know, joinin' a band and all. So this is a song that Joey Ramone loved. They played it to him while he was lying in his hospital bed a couple of months back. It was the last song that Joey Ramone heard in his life here, and…that's an amazing thing for somebody who grew up as a fan of Joey Ramone, I can tell you that. Anyway, Joey turned this song about a hangover into a gospel song I think, 'cause that's the way I always hear it now…through Joey Ramone's ears."

21. "What's So Amazing About Grace?" (1997)

From the song "Grace": "What once was hurt/What once was friction/What left a mark/No longer stings/Because Grace makes beauty/Out of ugly things"

According to Noel Gallagher, he had said to Bono: "Look, you believe in it all…I'm Catholic same as you. Can you explain it to me?" Gallagher told Sunday Times writer Robert Crampton: "We had a good three-hour conversation about his religious philosophy, which is basically, 'Go to God, tell Him what all your flaws are and say, 'Can you work with me?'…"

"And [Bono's] dad had just died. How difficult must that be? Takes time out because two people were interested. What a guy."

Steve Beard writes in "Spiritual Journeys" (2003):"Bono had attached a little note to the gift: 'I don't know if you were serious the other night, but here's something that might give you a bit more of an understanding.'" (p.252)

22. AIDS. Bono commented: "Christ's example is being demeaned by the church if they ignore the new leprosy, which is AIDS. The church is the sleeping giant here. If it wakes up to what's really going on in the rest of the world, it has a real role to play. If it doesn't, it will be irrelevant."
http://www.suntimes.com/output/falsani/cst-nws-bono03.html

DATA: Debt, AIDS, and Trade in Africa http://www.data.org

"Give a Little" by Bono
http://faithasawayoflife.typepad.com/blog/2005/02/
http://www.suntimes.com/output/falsani/cst-nws-bono04.html
http://www.suntimes.com/output/falsani/cst-nws-bono05.html
http://www.suntimes.com/output/falsani/cst-nws-bono06.html
http://www.pbs.org/wnet/religionandethics/week526/bono.html

23. Get Up Off Your Knees: Preaching the U2 Catalog (Raewynne J. Whiteley and Beth Maynard, editors, Cowley Publications, 2003).
http://u2sermons.blogspot.com

During U2's Elevation Tour, Bono quoted from Peterson's Bible paraphrase, "The Message" during the opening moments of "Where the Streets Have No Name": "What can I give back to God for the blessings he's poured out on me? I'll lift high the cup of salvation–A toast to God! I'll pray in the name of God; I'll complete what I promised God I'd do, And I'll do it together with his people." [Psalm 116: 12-14]
http://www.atu2.com/news/connections/peterson

Interview: Get Up Off Your Knees: Preaching the U2 Catalog
http://www.dickstaub.com/culturewatch.php?record_id=637

24. "I Still Haven't Found What I'm Looking For".

Pryds writes: "Couples who have the song played at their weddings boldly shatter all of our easy assumptions about romantic love and happily-ever-after, by using this song to declare their deeper search for God. And friends and families, preparing to bury their young people, choose this song to be sung at funerals as a reminder that the search and struggle of the deceased is finally over." (in "Get Up Off Your Knees: Preaching the U2 Catalog", p. 102)

25. Bill Hybels, senior pastor of Willow Creek Community Church in South Barrington, Illinois. Hybels is on Time magazine's list of "The 25 Most Influential Evangelicals in America" (Feb. 7/05) http://www.time.com/time/covers/1101050207/index.html

http://u2sermons.blogspot.com/2004_05_01_u2sermons_archive.html#108462941937393180

26. "With love… with love." Bono and Michael both attended the launch of The One Campaign in Philadelphia. http://www.theonecampaign.org
http://www.atu2.com/news/article.src?ID=3444

27. "Where the Streets Have No Name"
http://www.atu2.com/news/article.src?ID=3472&Key=&Year=2004&Cat=5

28."Yahweh". The chorus: "Yahweh, Yahweh/Always pain before a child is born/Yahweh,Yahweh/Still I'm waiting for the dawn"

Kenneth Tanner writes on nationalreview.com: "'Yahweh' is a postmodern Christmas hymn. It looks in hope to the birth of Christ ('always pain before a child is born') as it presses home a question the Father's long-awaited gift evokes in honest souls: 'Why the dark before the dawn?'"

Edge: "It ['Yahweh'] was one of those songs that had an emotional weight to it. Bono's first vocal to it was this incredible thing, and I think most of the melodies that ended up on the final version were written in a matter of minutes when he first heard the piece of music. Quite quickly after that, he came up with this idea of calling it Yahweh, which is the name for the most high, which Jewish people do not utter, it's written but not spoken. I don't know the exact translation, but it's a sacred name for God, and in this song it's a prayer. I can't really explain it beyond that, it's one of those songs that had to be written, and again we just got out of the way."

Yahweh is one of the most important names for God in the Old Testament, from the verb, "to be," meaning simply but profoundly, "I am who I am". The Hebrew word "Yhwh" was the name by which God revealed Himself to Moses in the burning bush (Exodus 3:14). And from the New Testament: "I tell you the truth," Jesus answered, "before Abraham was born, I am!" (John 8:58)

Bono: "The title's an ancient name that's not meant to be spoken. I got around it by singing it. I hope I don't offend anyone."

29. "The Politics of God: Why the Right Gets It Wrong and the Left Doesn't Get It" (2005) by Jim Wallis, editor-in-chief of Sojourners magazine. http://www.sojo.net

30. Adam Clayton

Clayton: "We see it as a more joyous and up record. I mean, there's always a degree of introspection and melancholy to what we do. The other end of the spectrum is there is also joy and celebration. And on this record, in particular, we really complete the journey from fear to faith, and that's sort of the way the running order on the record goes, from 'Vertigo' through to 'Yahweh.' So 'Vertigo' is an expression of vulnerability, I guess, and by the time you get through to 'Yahweh,' it's an expression of faith."

Q: "Was that progression designed to provide a sort of cathartic release?"

Clayton: "I think it's there if you're looking for it. If you go through the record to 'One Step Closer' and 'Yahweh,' I think you reach a place of peace, and I think it's a beautiful, tranquil place."

The full interview with Adam Clayton:
http://entertainment.signonsandiego.com/profile/274403
http://www.signonsandiego.com/news/features/20050328-9999-1c28u2.html From Bill Flannigan's 1996 book "U2: At The End Of The World":

[to Bono] "Do you think that you, Larry, and Edge are still on the same wavelength in your beliefs?"

"What about Adam?" Bono says quickly. "Adam's the same. I mean, nobody is exactly the same, but Adam's a believer. I think that the spirit will more and more become the important thing over the next ten years, when it becomes clear that God isn't dead, Nietzsche is." (p. 480)

31. "Love and Peace Or Else". Bono: "Love and Peace Or Else started off a few years ago, and we could never quite crack it, it was just like the spirit in the sky, 60s psychedelic riff. Brian Eno was in the room, with that low bass sound, and it sounded like the end of the world, this subterranean bass and glam-rock, day-glo, gospel melody. 'Lay down, lay down your guns, all your daughters of Zion, all ye Abraham sons.' A preacher-type character, cracked but making some sense. It's like the Fly went to the seminary to become a priest, and ended up in this song… something like that."

32. "Kingdom of Your Love". "He [Bono] reaches an unexpected conclusion, making the case that his band, among the few rock superstars without Woodstock-era roots, is still driven by the best ideas of that time. In the end, maybe the spaceship is a time machine—and the destination is 1967. 'You think of the Beatles and you think of 'All You Need Is Love,' and that burst of ideas, that renaissance that was the Sixties,' he says. 'The core of it was this idea of love, out of which came the women's movement, gay movement, anti-war movement. It was all based on this simple Judeo-Christian idea, the philosophy of having to love your neighbor, it not being advice, it being an order, an edict: 'Love your neighbor.'…'It's a strange thing,' he says, 'when you come out with this stuff at a rock show.' "–Rolling Stone, [U2: Live From Outer Space] Oct. 15/09, p. 47.

"Dear friends, let us love one another, for love comes from God. Everyone who loves has been born of God and knows God. Whoever does not love does not know God, because God is love." (1 John 4:7-8)

"Love is patient, love is kind. It does not envy, it does not boast, it is not proud. It is not rude, it is not self-seeking, it is not easily angered, it keeps no record of wrongs." (1 Corinthians 13:4-5)

33. Japanese artist Hiroshi Sugimoto. The photograph represents an image of the sea meeting the sky. The equals sign [sticker] doesn't actually obscure the horizon, thus No Line on the Horizon. Steve Harmon, associate professor of divinity at Samford University's Beeson Divinity School, writes at http://u2sermons.blogspot.com:
"I've been pondering the album cover. The equals sign, with one bar in the 'heaven' portion and one bar in the 'earth' portion, suggests something like 'your kingdom come, your will be done, on earth as it is in heaven.' But in this particular Sugimoto image, there IS still a line on the horizon. Earth is not yet heaven, yet we pray and work for the day when things will fully be on earth as they are in heaven—when heaven and earth will be indistinguishable, and there will be no line on the horizon. Once again, an 'already'/'not yet' eschatology, with the emphasis on the 'not yet.' " (Jan. 24/09)

34. "Magnificent". Bono: "There's this theme running through the album of surrender and devotion and all the things I find really difficult," Bono says. "All music for me is worship of one kind or another." (Rolling Stone, U2: Hymns For The Future, March 19, 2009) http://u2.interference.com/f189/full-rolling-stone-u2-cover-story-196498.html

35. "Magnificent".



Beth Maynard comments: "I expect this video may be gone quickly, but I wanted to make a stagecraft comment on U2's "Magnificent" from Letterman last night. Those who have been following reviews and discussion will have noted that a lot of hearers seem to be taking "I was born to sing for you…to lift you up" as an insufferably arrogant phrase directed at U2's audience; it has come in for a lot of criticism. In light of that, it is almost funny to see, as this moment arrives in the song, the visual Bono chooses (starting at about 2:45). He begins with a standard wide-armed orans position, but immediately shifts that into an awkward-looking, aggressively vertical orans with both arms parallel all the way over his head, and just holds it. (The text is directed up, folks. Not horizontally. Up. Is this clear enough for you?)
http://u2sermons.blogspot.com/2009/03/be-ever-hearing-and-never-understanding.html

36. on the Sept. 10, 1989 NBC-TV special, "From the Heart".

37. "Unknown Caller" "3:33 when the numbers fell off the clock face".

38. "Unknown Caller". The lyrics echo Psalm 46:10 "Be still, and know that I am God…"

39. 1 John 4:18 "There is no fear in love. But perfect love drives out fear, because fear has to do with punishment. The one who fears is not made perfect in love."

40. "Get On Your Boots"
http://www.atu2.com/news/let-me-in-the-sound.html

41. "I can stand up for hope, faith, love"

1 Corinthians 13:13: "And now these three remain: faith, hope and love. But the greatest of these is love."

42. "Head first, then foot/Then heart sets sail". Steve Stockman writes: "The birth? It could be the birth of the album or it could be some kind of spiritual birth, the description seems perfectly physical! Bono is into his rebirth and indeed we will come back to that when we get to the penultimate track Breathe. The heart setting sail as the last line and does give the sense of human potential to create and imagine and create and discover and ultimately contribute. That could happen at the birth of a baby, an album or in a spiritual rebirth. And Fez seems an exotic and intoxicating place to dream all things new."
http://stocki.typepad.com/soulsurmise/2009/05/nloth-song-by-song-fez-being-born.html

43. "Breathe". Steve Stockman writes: "Is '16th of June' Bloomsday from James Joyce's Ulysses? Or is it South African Youth Day that marks the scarred memory of the 1976 Student Uprisings in Soweto, Guguletu and elsewhere? Or could it be a significant date in Bono's own spiritual journey because when he moves from the great lyrical intrigue of travelling salesman, talking cockatoo, Asian viruses, Ju Ju men and hits the heart of the song we are again into a treasure trove of basic Christian theology. The dying and rebirth of the chorus are again, as is strewn throughout the album, basic Christian beliefs. Dying and being reborn is the concept of baptism, dying to the old self and being born anew." http://stocki.typepad.com/soulsurmise/2009/05/nloth-song-by-song-breathe.html

U2: Did They Come to Play Jesus?
Speaker: Steve Stockman [May 19, 2005]
http://www.regentaudio.com/u2_did_they_come_to_play_jesus?

U2: To Claim the Victory Jesus Won
Speaker: Steve Stockman [July 12, 2005]
http://www.regentaudio.com/u2_to_claim_the_victory_jesus_won

Steve Stockman is an ordained pastor of the Presbyterian church in Ireland. He is the Chaplain at Queens University in Belfast and hosts his own radio program on the BBC. He is also the author of the book Walk On: The Spiritual Journey of U2.

44. "White As Snow". Daniel Lanois: "After my conversation with Bono about future hymns or future spirituals, I did a little studying. In fact, with a friend in Toronto, Lori Anna Reid – she's a great singer from Toronto and she's quite an expert on spirituals. I asked her to fish a few out for me and we had a listening session and that one stood out to me. It's an old church hymn called O Come, O Come Emmanuel. Its not identical, but it's inspired by that, an old public domain melody. I laid down a little piano version of that song, again, chopped it to a tempo. Then I came up with a vocal arrangement. Bono had this "white as snow" idea. It just slowly came together." (National Post, March 10, 2009)

45. "Cedars of Lebanon", which is written from the perspective of a war correspondent. There are several references in the Bible to the cedars of Lebanon, such as Psalm 104:16. "The trees of the LORD are well watered, the cedars of Lebanon that he planted."