Related: Connecting with the heart: An interview with Brian Doerksen
"It's a unique project. I don't know of another like it," said Brian Doerksen.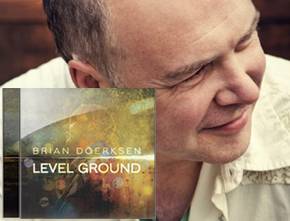 The well known Canadian song writer and worship leader was talking about Level Ground, his latest compilation of worship songs, in both CD and DVD versions, released September 14.
"The essence of the vision," Doerksen said, "was to do a live worship experience, but turn it on its head, to take the band off the stage and put it among the people."
The album was recorded last spring in 'The Barn' – a literal refurbished barn on a farm owned by The Bridge, a church in Abbotsford, B.C., where Doerksen serves on the leadership team. The Barn, on a still functioning 12-acre hazelnut farm, can hold about a hundred people and is used for youth events and similar gatherings. (The main church services are held in a nearby community centre.)
There was a wooden stage, built out of reclaimed barn wood, but most of the time the stage sat empty. This was deliberate, in keeping with Doerksen's philosophy that worship music should be corporate worship, flowing out of the community.
"What was really fun," Doerksen said is that even though he took the lead on most of the songs, the album also "included a lot of great local singers from our church … there's some variety."
Many of the singers and musicians, including Doerksen, worked on the CD as volunteers, for free.
"We did the project as a team, a local church, a group of friends, a community," Doerksen said. He added that professionals who have heard the CD said that that relationship was very evident, "and this is very exciting to us."
The vision for the album, Doerksen said, was "worship songs themed on grace."
There were two stools on the stage, and, interspersed between the songs, Doerksen invited several people to come onto the stage "to tell their grace stories."
Doerksen asked them three questions: What was your life like before you encountered grace? What happened to transform your life? What are you going to do with this grace now?
Those questioned included an Indo-Canadian couple from a Sikh background and a murderer just released from prison.
The latter was one of several men Doerksen met at a prison in Mission, B.C., who have become "dear friends." Doerksen offers a mini-concert at the prison every couple of months.
Those telling their stories were "ordinary people with extraordinary stories," Doerksen said. "There's nothing like the power of a transformed life."
The interplay of the songs and the stories was central for Doerksen. He said, "The music is not sung for its own sake but to spur us on to love God and those around us."
The songs include ten new worship songs penned by Doerksen. But they also include three pieces by other writers: a hymn medley with Henry Smith's 'Give Thanks with a Grateful Heart'; Tim Hughes's '(Be my) Everything'; and Ali Berry's 'Lifelong Passion."
"I can't do an album with just my own songs. It's not a good example," Doerksen said. "I see in part and know in part, and I need others."
The DVD offers the "whole package," Doerksen said. Besides the songs and the stories, it also includes some worship dance and some additional documentary-style interviews. And while all that was going on, an artist named Steve Stanczyk painted a huge mural called 'Level Ground.'
Level Ground has come out in two formats, a CD, with just the songs, and a DVD, which includes the grace stories, dancing and mural.
Integrity, the distributor, chose to price the DVD, which has more on it, lower than the CD – $12.99 compared to $17.99. The idea, Doerksen said, is that if people are going to buy just one, they should buy the DVD because "if you don't buy the DVD, you won't get what Level Ground is all about."
Then, later on, people can buy the CD "for listening in the car."
A five-minute preview of Level Ground is available for free on Doersken's website.
NEXT WEEK: Doerksen's other new release.