University of Victoria German professor Michael Hadley has been to Uganda four times since 2004 to teach ethics at a medical school there, but the latest visit at the start of the year came while the East African country was in a turmoil over a bill before parliament to make some homosexual practices a capital offence.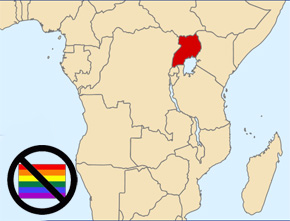 The bill generated strong public support in Uganda but international condemnation from national leaders of Sweden, Great Britain, Germany and the United States. As well, the news media in the U.S. focused on an alleged homophobic alliance of Ugandan and American evangelicals.
In mid-September Hadley gave a public lecture for U Vic's Centre for Studies in Religion and Society, and later led a private discussion of the bill with academics, stressing the pervasiveness of religion in every aspect of Ugandan life.
"If you just drive down the street and look at the signs, you will see Ave Maria Takeaway, the Jesus is Alive Family Shop, and Glad Tidings Taxi," he said.
The behavioural sciences, too, are heavily influenced. Dr. Hadley quoted from a Ugandan university sociology text dealing with homosexuality: "The Bible is historical, historically accurate, inerrant, and without a doubt the inspiration of the Holy Spirit."
While Uganda was evangelized by Anglicans and Catholics (and Muslims) in the 1860s, 'American-style born-again' congregations have proved more popular in recent years, drawing adherents from the mainline churches with their emotional intensity, self assurance and optimistic promise of material and spiritual prosperity. And when Hadley received communion at the Anglican cathedral in Kamapala, he said it was clear that it was more emotional and fundamentalist than the Anglican church in Canada.
"Christianity [in Uganda] seems to have bypassed the Enlightenment and the Reformation," said Hadley, meaning it takes the Bible literally, without the three legged stool approach of Reformation churches, which consider Scripture in the light of reason and of church tradition.
Into this volatile culture in early 2009 came a trio of American evangelicals led by Scott Lively of Abiding Truth Ministries and Don Schmierer of Exodus International to give a seminar urging Ugandans to take action against the spread of homosexuality from Europe and America.
Hadley said there were two conspiracy theories at work here: the Ugandan view, much encouraged by the evangelical trio, which held that homosexuality was entirely a European and American import; and the counterview of American media, which was that homophobia was an American evangelical import.
Some have gone further. Jeff Sharlet has argued in the latest issue of Harpers magazine that the Ugandan political leadership belong to a secret U.S.-based cabal of wealthy and powerful fundamentalist Protestants, called 'the Family,' intent on controlling American public policy. Hadley said he found Sharlet's view compelling.
The anti-gay workshop led by the American trio was followed by a widespread popular campaign tied to the introduction of the anti-homosexual bill. The campaign saw the publication of the names and addresses of suspected gays, and elementary students marching in the thousands behind anti-homosexual banners.
But in the private discussion with academics after the public lecture Hadley admitted that Ugandan Christians came into conflict over homosexuality early in their history. Several dozen early converts were executed by the king of Uganda in the 1880s for refusing his homosexual advances according to Ugandan oral tradition, said Hadley. But the written history attributes their martyrdom to their refusal to renounce their faith, a version of events, the professor noted, that allows Ugandans to perpetuate the notion that homosexuality is an imported vice.
Hadley noted that David Bahati, the member of parliament who introduced the bill, framed it in entirely religious and moral terms, as a small candle in a small corner of the world to disperse the darkness.
"The language of human rights falls on deaf ears," said Hadley, citing one Anglican bishop there who declared that it was inconceivable there could be a human right to something that was unnatural.
The bill itself called for the death penalty for homosexuals who had sex with minors or those with handicaps, or who had sex while infected with AIDS; life imprisonment for homosexual activity; and up to three years in jail for anyone who failed to report someone else's homosexual activity.
Uganda's Christian churches and Muslim leaders have endorsed the bill, but evangelicals in the United States have distanced themselves from it. International organizations such as Human Rights Watch have denounced it, along with U.S. president Barack Obama.
Hadley noted that though Ugandan leaders have insisted they won't be pushed around by other countries (indeed, the bill calls for breaking off of relations with governments that try to interfere on this issue), a third of Uganda's GDP comes from foreign aid. Withdrawal of such aid would have a crippling impact. This is probably part of the reason, at least, that Uganda has not passed the bill. After a year, it sits in limbo, with the government in no hurry to even look at it, let alone introduce it into parliament.
But even if it never goes anywhere, said Hadley, the furor has left lasting wounds: acrimony, distrust and fear. "It highlights the corrosive effect of ideologically driven politics often dressed up in religious rhetoric, and it reminds us that even the most sincerely held, the most deeply pondered and prayerfully conceived principles and values can be terribly misguided and terribly wrong."
Professor Hadley appeared to give short shrift to the possible legitimacy of Ugandan Christians' moral concerns about homosexuality, while he gently mocked their belief that their country could set an example anyone else would follow.
But Uganda has, in fact, already set such an example. In the 1990s, it reduced its AIDS infection rates by two thirds with a campaign based on chastity before marriage and fidelity afterwards. International development organizations have since forceda condom-first approach on Uganda by threatening the withdrawal offunding.
However, Hadley did tellIsland Insightthat evangelicals do a lot of good in Africa. "They are the only Christians who are willing to get in on the ground and get dirty, who are really doing social justice," he said.
John Stackhouse, a professor of theology and culture at Regent College in Vancouver, who did not attend the lectures, offered comment on the attempt of journalists to describe the involvement of American evangelical Christians in Uganda from the U.S. as a sinister conspiracy.
Noting that moderate U.S. evangelicals had condemned the draconian terms of the anti-homosexual laws, Stackhouse said American Christians shouldn't have to apologize for opposing the politically correct view that homosexuality is just another healthy expression of sexuality, in the U.S. or Uganda.
He asked, "If these people want to to help Uganda not move in the direction of the U.S., why shouldn't they?"
Steve Weatherbe blogs at faithvictoria.wordpress.com, and has written an article on this "Those Misguided Ugandans"