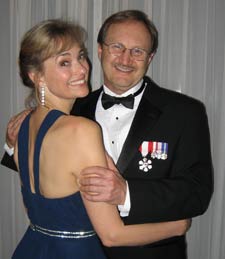 The Order of Canada is the highest honour our country can bestow on its civilian citizens. Norgrove Penny, a pediatric orthopedic surgeon from Victoria, BC, received it October 26 for what he has done for disabled children in Uganda.
Penny had a thriving practice in Victoria, when he heard Christian Blind Mission (CBM) was looking for a specialist to help children in Uganda.
Penny responded to the challenge. Together with his wife Anne and their three young daughters, he set out in 1996, armed only with a modest collection of surgical instruments.
When he saw the conditions he would have to operate under — sometimes no running water, electric power on and off, no oxygen — his first response was, "I can't work here!"
But then he realized he could not abandon helpless children, and went to work with what was available. By the end of his six years, he had operated on approximately one thousand clubfeet, as well as a large number of other conditions.
"It was far more than straightening out a foot or a limb," he now says of those procedures. "It meant a child could now go to school and hope to get a job, that a girl could hope to get married. It meant they regained their self-respect, for with their disability they were looked upon as subhuman. In fact, their condition was seen as the result of a curse, and getting them on their feet meant that curse was broken."
But Penny went far beyond surgical treatment by itself. Without rehabilitation, the results would be inadequate; so, in cooperation with mission and government hospitals scattered around the country, he set up a network of community-based rehab centers. The hospitals also would gather the disabled children of their region for him to treat.
In addition, he trained Ugandans without medical expertise to perform a simple, non-operative treatment, called the Ponseti procedure — for effectively treating clubfeet in very young children, before the deformity has become permanent. As awareness of this treatment grows among the population, Penny expects the need for surgery will decrease.
By the time it became necessary for him to return to Canada for the education of his own growing children, he had planned a nation-wide approach for treating children with disabilities that was adopted by the Ugandan government. The World Health Organization has also approved the system and cooperates with Christian Blind Mission and other groups to apply the same model in other developing countries.
After his return to Canada, Penny upgraded his training to become qualified as a sub-specialist in pediatric orthopedics, and he is now once more practicing in Victoria. The Vancouver Island Health Authority has appointed him the pediatric orthopedic surgeon for the entire island, and as such he conducts clinics in Nanaimo and Courtenay, as well as in the Queen Alexandra Hospital on Arbutus Road.
Penny is a devoted Christian. Asked if his work helped to spread the Christian message, he replies emphatically: "We at CBM are all Christians, and what we do is in Jesus' name. But we are non-denominational; there are quite a few Catholics among us, as well as Protestants — and our focus is not evangelistic or theological. We are medical professionals, and we work in partnership with local organizations, mostly churches.
"For instance, I worked in a hospital affiliated with the Church of Uganda, which is basically Anglican. I saw that the role of evangelizing and discipling was with the local church. There are 10,000 pastors in Uganda, but I was the only orthopedic surgeon taking care of the kids. They speak the language and I don't; they are far more effective evangelists than I."
Penny also notes the role of faith in clarifying his perspective. "I am a follower of Jesus — that is, he is my role model. Now read Matthew 8 and 9, and see what he did. He did some teaching and spent some time with the disciples. But most of the time, he was healing people with chronic disabilities: the deaf, the blind and the lame, lepers, people with epilepsy. Perhaps you might add to that the demon possessed, if you see them as disabled by spiritual/psychiatric problems.
"Jesus understood the burden they carried: they were considered cursed and untouchable. Those were like the kids I was seeing in Uganda — they were growing up disabled, isolated, less than human."
Penny concludes: "For me to work in Uganda was exactly the way it was in biblical times. Like Jesus, we must minister to the physical as well as to the spiritual. Evangelicals sometimes reject the social gospel, but Jesus did not."