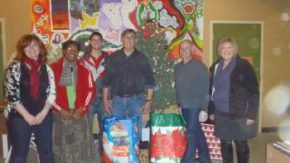 You could easily miss Sanctuary Youth Centre as you wander around downtown Victoria; it's tucked into the basement of Church Of Our Lord (COOL) and is noticeable only by the bright graffiti covering the door.
However, finding the location doesn't seem to be a problem for the hundreds of at-risk youth who have poured through its door for eight years. In fact, for some of them, it's the one place they have learned to call home.
"I remember one day it was raining outside, and one of our kids came in and took out a pair of slippers," said Rob Trepanier, Sanctuary's director since its ribbon-cutting in 2004.
Sanctuary was the creation of a group of Victoria pastors who prayed about how they could reach youth living on the street in Victoria. They came up with the concept of a drop-in centre for kids that would 'bridge the gap between the church and the street.'
Jason Goertzen, a member of the elders board for Sanctuary, said the centre "offers local congregations the opportunity to leave the safety of the suburbs and minister to our street youth."
When the drop-in centre first opened, 90 percent of the youth showing up were homeless, and many had severe drug addictions. Now, Trepanier said, youth show up from all walks of life but still share the common need of wanting a safe place to go.
"We have learned that 'at-risk' means they are at-risk because of their lifestyle, whether it is drugs or foster care or broken homes," said Trepanier. "We provide a safe place where all youth can come and get the support that they really desire."
The centre is open Tuesday to Friday from 3 to 5 for afternoon hang-outs, and then reopens every night from 7 to 9 with themes like music night, art night or concerts.
During these times, kids can take a shower, do their laundry, use the internet or simply take a nap on a safe corner couch. They can also grab a snack or a hot cup of coffee, and on Fridays there is a full meal followed by an hour of worship.
Long-term volunteer Dot Austen said that reading the poetry that some of the kids write has been "an incredible insight into what they see and feel on the street." There are huge scrapbooks of poetry and art done by the youth that speak more then some of them ever will.
There are also resources to connect the kids to health care or job searches, but the centre mostly functions as a place to experience 'being ordinary people.' "We try to keep things more like a church would be," said full-time staff member Galen Falconberg, "a community to belong to."
In a letter written to Sanctuary's staff, one youth stated, "If it weren't for you, at least some of us would be dead, and many of us far worse off than we are… People like you are an example of what I view as true Christians — caring for your fellow man simply for the sake of caring."
Sanctuary is not without its challenges. Falconberg is leaving due to family reasons, and the centre is looking for a new staff member who is willing to make the same long-term commitment. Falconberg has been at the centre every single day since the beginning, forging and building relationships with kids.
"Consistent commitment speaks to kids like these," said Falconberg. "When I tell kids my story of why I'm a Christian, they need to know that I've fully listened to their stories first."
Consistency is the basis for all Sanctuary volunteers, who come on a regular basis to hang out with the kids, play pool, draw and play music. Many volunteers have been coming as long as Trepanier and Falconberg.
"Being a consistent presence in the youths' lives is an important part of trying to be Christlike," said Trepanier.
In 2009, the centre introduced a new Youth Volunteer Program, which allows Sanctuary youth and former Sanctuary youth to contribute to the Sanctuary community and benefit from the volunteer experience.
Sanctuary runs entirely on donations from over 40 churches in Victoria. Trepanier noted that Sanctuary, along with other ministries in the city, has fallen on hard times in the midst of the recession.
However, rather then dwell on the negative, Trepanier reflected on the five years of free rent that COOL granted the ministry in exchange for renovating the basement space that it inhabits.
"We need to celebrate what God's doing here," said Trepanier. "The fact that we open up the doors down the alley, down some stairs, in a church basement, and kids still find us and fill the place is a pretty good sign that he is at work."
To find out more about donating or volunteering, contact sanctuaryyouth.org.