War and peace: This is a subject that captures some attention each year, around November 11.
Over the past few weeks, the Canadian military pullout from Afghanistan has been the subject of much discussion.
Until now, it has been generally assumed by Canadians that all our soldiers in the Afghan conflict would be out of that country by the middle of 2011.
But, in the past few days, defense minister Peter MacKay has been speaking openly about keeping up to 1,000 soldiers in Afghanistan — but 'behind the wire,' in training roles. Combat units in the Kandahar hot spots would be gone. The training action would be within the relatively 'safe' confines of Kabul.
Liberal leader Michael Ignatieff suggested that his party would have little complaint about that idea. He was left, basically, to quibble that "the devil is in the details" — and that, so far, MacKay has not bored down very deeply about the finer points of this shift in strategy.
From this vantage point, a block away from where this week's Cenotaph Remembrance Day ceremonies are scheduled to take place, it is possible to envisage the relative lack of disagreement between the Conservatives and the Liberals regarding exactly what we need right now.
The reason is that, in effect, the Canadian effort in Afghanistan has been the one 'gathering place' between the two major parties. That has been the case ever since Prime Minister Stephen Harper appointed former Liberal foreign minister John Manley to head up an independent panel to make recommendations on Canada's Afghan engagement, shortly after he took power.
Reports issued by that panel made the point, several times over, that our action in Afghanistan was like a continuum involving the '3 Ds' — defense, development and diplomacy.
The continuum analogy is most appropriate at this particular juncture. And that is why it is important to not quibble too much about the possibility that there will still be 1,000 soldiers in Afghanistan at this time next year. Security and defense, obviously, are closely related. Without them, diplomacy and development both stand in danger from the insurgency.
But there is considerable significance in training the Afghan army from a 'behind the wire' position. The symbolism, alone, is important in helping Afghans to understand and deal with their own insurgency. That is much easier said than done, of course.
Indeed, when Canadians became involved in training Afghan corrections officers, considerable flack developed exactly because they were starting from scratch in helping many of those officers to understand what is right and wrong regarding humane treatment of detainees. Some of our political detractors suggested that the training itself could lead to 'war crimes' by omission.
Canada will do well to ensure a smooth transition. It will involve not only the Canadian Forces but the non-government agencies (NGOs) and diplomatic structures working for female education, sustainable and non-toxic agriculture — and all those other nation-building things that we take so much for granted on home turf.
Many of those NGOs are faith-based. And beneath the surface, many people involved in defense and diplomatic activity draw, individually, from the faith that sustains them.
If we do those "3Ds" right, the deaths of 152 military, one journalist, two aid workers and one diplomat, will not have been in vain.
* * *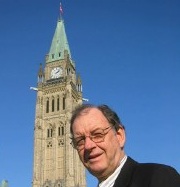 Lloyd Mackey is a member of the Canadian Parliamentary Press Gallery in Ottawa and author of Stephen Harper: The Case for Collaborative Governance (ECW Press, 2006), More Faithful Than We Think: Stories and Insights on Canadian Leaders Doing Politics Christianly (BayRidge Books, 2005) and Like Father, Like Son: Ernest Manning and Preston Manning (ECW Press, 1997). Lloyd can be reached at lmackey@canadianchristianity.com.