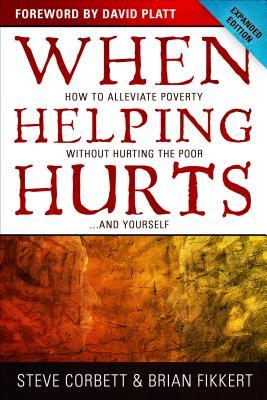 Have you ever made a donation based on guilt? Or given because you "should"? Or have you ever felt powerless to ease the world's problems, and done nothing at all? It's uncomfortable to evaluate the motivations behind our charitable actions, but it's vitally important.
A one-day conference called Helping Without Hurting will challenge participants to do just that. Based on the book When Helping Hurts: How to Alleviate Poverty Without Hurting the Poor…and Yourself by Brian Fikkert and Steve Corbett, the conference will spend the morning going through the key concepts of the book — everything from "asset-based development" to "doing short term missions without doing long-term harm." The afternoon will shift from theory to action with a breakout session on practical ways to respond, both locally and globally.
Hosted by Food for the Hungry (FH) Canada, the conference features Brian Fikkert as the main speaker. Both Fikkert and co-author Corbett work with the Chalmers Center for Economic Development, a research and training organization that helps local churches transform the lives of low-income people without creating dependency. FH Canada training manager Melissa Giles believes the conference will be relevant to church members, pastors, mission leaders, short-term team members, university students, non-profit staff members, and anyone concerned with social justice and the biblical mandate to care for the poor.
Fikkert is optimistic about the church's interest in caring for the poor and oppressed, but wants to help people develop a healthier, more thought-out response to the complexities of poverty and injustice.
"One could argue that the interest in the North American church in serving the poor is at the highest level it's been in the entire post-World-War-II era," he says. "But good intentions are not enough."
The conference will break down the principles of relief and development, equipping participants to respond in appropriate, life-giving ways that empower the poor instead of undermining their dignity. Fikkert and Corbett are first to admit they've done a lot wrong over their years in development, so they speak from a place of grace as they caution against handouts, donor-driven aid, and the temptation to treat poverty as merely material.
But it's not a conference about guilt or shame about mistakes of the past. It's meant to inspire, educate and enable individuals, churches, volunteers, and non-profits to make smart choices as they engage with issues of poverty—not only for their own good, but for the good of those they aim to help.
The Helping Without Hurting conference with Dr. Brian Fikkert is December 1 at Sherwood Park Alliance Church in Edmonton, AB. Visit www.fhcanada.org/HWH for more information and to register. For those not in the Edmonton area, visit www.fhcanada.org/bootcamp to learn about FH Canada's Poverty Revolution Boot Camps offered in several cities across Canada each year.