Ottawatch comments, this week, will run the gamut from Christian universities to minimum sentencing for child sex abusers to Canadian support for Afghan women.
To take the last first, I just returned from a press conference held by CARE Canada, where a new report was released entitled 'Looking for Leadership: Women's empowerment and Canada's new role in Afghanistan.'
CARE spokespersons Kevin McCort and Jennifer Rowell both suggested that, with the imminent withdrawal of Canadian military involvement in Afghanistan, there would be an opportunity to kickstart a national debate about our future activity in that nation.
McCort, the CARE Canada CEO, made the point that his agency had been working in Afghanistan for 50 years. That experience, he suggested, led CARE to believe that, given the right circumstances, Afghan women are powerful in their nation – and have the power to change what has admittedly been an anti-woman culture.
Rowell pointed to the report itself, which contains 132 recommendations for Canadian initiatives in post-conflict Afghanistan.
The report can be accessed on line at www.care.ca.
Two points out of the press conference worth noting:
• One reporter, understandably, wanted to get clarification on whether CARE believes the present government to be intransigent with respect to women's issues. McCort's response was strong: The government has provided many open doors for discussion and has not been at all reluctant to engage the issues. CARE's concern, at this point, is to make Canadians in general more aware of the issues, in the light of Canada's impending military withdrawal from Afghanistan.
• My own question was whether faith-based non-governmental organizations working in Afghanistan were on side with CARE on these issues. She responded that "the faith-based NGOs with whom we [CARE] work are faith-based in principle, not in practice . . . They [for example] do not proselytize."
The particular organizations which interest me are World Vision, which works from a Christian perspective, and the Aga Khan Foundation, which has Ismaili Muslim roots. Rowell's point was that, indeed, such organizations are on side with CARE's initiatives.
* * *
Just before attending the CARE press conference, I scanned a new report from the Association of Universities and Colleges of Canada (AUCC), entitled 'Foundations for Education.'
The report provided what it described as a "snapshot of transformations taking place on university campuses across the county." AUCC president Paul Davidson suggests that "the updated, retrofitted and new state-of-the-art buildings on university campuses will create a rich learning environment*… that will attract the best and brightest professors and students from Canada and around the world."
This all comes out of the $2 billion Knowledge Infrastructure Program (KIP), with matching funds from provincial and territorial governments and other partners, which, according to Davidson, has allowed "universities and colleges to tackle more than $5 billion of deferred maintenance – everything from leaky plumbing to crumbling buildings."
The objective of my above-mentioned scan was to see what Christian universities were mentioned as sites of the 183 projects under the KIP program. There had been some muttering under the surface that Christian higher education institutions – even if they were members of AUCC – were not deserving of such funding.
The report, accessible at www.aucc.ca/kip, did not list any Christian schools in the sampling of projects featured by photo and description on the first page. But it did tell about a longhouse construction project at the Chilliwack campus of the University of the Fraser Valley. It was consistent with some emphasis given in the KIP program to aboriginal education initiatives and could be seen, as well, as a nod to the mainstreaming of native spirituality.
In a quick run through the full – and non-descriptive – list of AUCC schools receiving KIP funding, I took note of several Christian-based institutions. They were: Canadian Mennonite University, Concordia University College of Alberta, Luther College, Redeemer University College, St. Francis Xavier University, St. Paul University, St. Thomas More College, St. Thomas University, Trinity Western University, University of St. Michael's College and University of Trinity College.
Two other schools in the list have similar names. King's University College, in Edmonton, is a Calvinist-based school. The King's University College at the University of Western Ontario is a Catholic institution.
* * *
The third item, today, relates to a press conference I was not able to attend because of a scheduling conflict.
It involved two organizations and their spokespersons – Brian Rushfeldt of the Canadian Family Action Coalition and Charles McVety of the Institute for Canadian Values.
The pair called for 15-year mandatory minimum sentencing for child sex abusers.
The release announcing the press conference stated: "Prime Minister Stephen Harper has the responsibility to fulfill his promise to introduce legislation offering tougher sentencing for child sex abusers. Opposition leader Michael Ignatieff must set aside political wrangling and partner with the government to protect our children who remain at risk."
* * *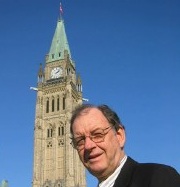 Lloyd Mackey is a member of the Canadian Parliamentary Press Gallery in Ottawa and author of Stephen Harper: The Case for Collaborative Governance (ECW Press, 2006), More Faithful Than We Think: Stories and Insights on Canadian Leaders Doing Politics Christianly (BayRidge Books, 2005) and Like Father, Like Son: Ernest Manning and Preston Manning (ECW Press, 1997). Lloyd can be reached at lmackey@canadianchristianity.com.