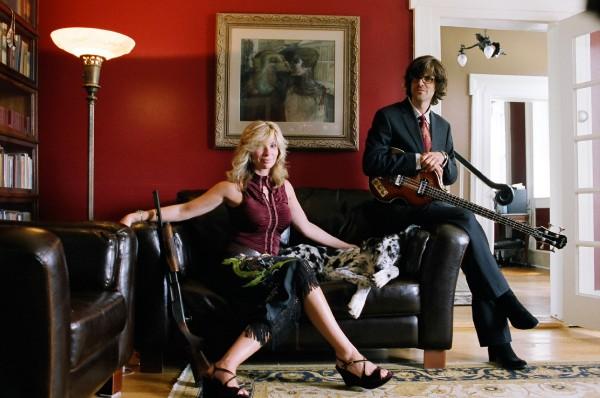 For most musicians, playing comes down to a simple choice. If you're motivated; you play.
For Linford Detweiler, that was hardly the case.
Detweiler and his wife Karin Bergquist – along with a revolving cast of backup musicians – have recorded as Over the Rhine for over 20 years. Their newest effort, The Long Goodbyeis arguably the strongest album of their career. I spoke with him recently about a number of subjects, including his rather unique roots.
"I grew up with this background of forbidden music: 'music is dangerous; be careful.' So for me, becoming a professional musician was walking a dangerous road.
"Both my parents were raised on Amish farms, and I have lots of stories about the awkward navigation from that sort of culture – one that's completely removed from the modern world."
Music and art were considered inherently decadent, which resulted in numerous acts of covert creativity "My father was a very restless child with artistic leanings, and he sketched faces on the side of the white-washed barn with a piece of charcoal. People would gather around these drawings that he had made and recognize themselves.
"They weren't allowed to have musical instruments; but my uncle Rudy loved music, and he had an acoustic guitar in the haymow. He would sneak into the barn after dark, and play his guitar – and then bury it in the hay. One of his brothers – not knowing it was there – accidentally ran a pitchfork through it one time."
Other instruments were placed strategically about the farm. "Rudy also hid an accordion under the horse's manger, and I've often drawn the parallel with all this instruments being hidden in the hay: it brings to mind the Christ child in the barn, like a forbidden song."
He notes that "A cappella singing was allowed, but no accompaniment." Only one instrument passed muster: the lowly harmonica. "So dad and my uncle played their harmonicas all their lives. That was an exception."
Eventually, his parents decided to leave the sect. "Dad was very haunted and restless, and we moved around quite a bit. I say now that he was looking for a city not made by human hands, but he wanted to see what was out there. We lived out in Montana for six years and tried different things, but he never quite found his vocation. They were always strong believers and very religious people. They became Mennonite for a while; and dad was a Protestant minister for part of his life."
Once they left the Amish community, music became a mainstay in the home. "Dad bought a record player, and began to bring home records – everything from Mahalia Jackson to very early Eddy Arnold records to Beethoven's Sixth Symphony. He didn't know it was against the rules to play the Mahalia Jackson, Eddy Arnold and Beethoven all in the same evening.
"He also bought a reel-to-reel tape recorder, and made field recordings when we were kids. He'd go out at night and record at the edge of a swamp, or just walk down back roads and make recordings." My parents knew I loved music, and when they left the Amish, they brought an upright piano into the house."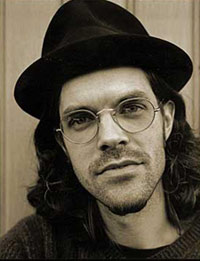 It could, on occasion, be cause for consternation. "My grandmother, who was Amish, was coming to visit, and here was this affront – a piano – right in our living room. My sister Grace looked at it carefully, and said 'Linford, if we cover it up just right, I think she might think it's a furnace.'
"My parents loved the fact that I would sit at the piano, and that I took to it quickly and naturally. I went there often as a child to make up my own music. It's where I learned to read music; my mother would be washing the dishes and she would hand me the hymnal and say 'Just try to find something that I don't know; play a hymn.' And I never recall ever playing a hymn that she didn't know."
Playing hymns met with approval; but once he found his own voice, it was a different story. "When I started writing songs, and getting interested in this whole era of the sixties, and what a song could mean in terms of modern culture, then I began to step into something that was so foreign to my parents, there was almost no way to bridge the gap."
That's when it got interesting for Linford. "It was extremely exciting for me. And as I differentiated myself from my family, it was not without its concerns and traumas. But shortly before he passed away, my mom and dad came and saw us play. That was one of the first times that they had seen us with the full band. I told a few stories from stage, and said that for years I had been thinking that I would pick up the phone and call my parents and say: 'Mom and Dad, I've got good news. It's a little bit bittersweet, but the Over The Rhine thing, we're all done with that now. That chapter has ended, so I'm going to go ahead and get a real job and get back to my real life.' I always thought I would make that phone call.
"I really believed that when I was starting out. And then I began realizing that I never was; that this is actually what I do. And I told some of our old stories, and tucked that note in there, and then I introduced my parents. Everybody was curious; would my parents be a little shy about being introduced, or have mixed feelings? Well," he chuckles, "I said my dad's name, and he practically shot up out of his chair. He was very caught up in what was happening and I think quite proud of what I had accomplished. But culturally, even then, it was a little far out there. So I didn't pressure them to understand it, or anything like that."
"It was a complicated relationship," Detweiler notes. "There were six of us kids, and my dad loomed larger than life in all of us – in all of our lives."
The old adage of being done with our past, but the past not being done with us, comes to mind; he realizes his father lives on – for good and bad – in his own personality.
"Oh, yeah, absolutely," he laughs. "He's still here. But I think he ended well. Dad had a couple of really good final laps, if you want to use the metaphor of running the race. It really ended up well. I feel like he did a lot of healing homework in his last few chapters."
Given his formative years, it's hardly a surprise to find a subtle spiritual underpinning to much of Over The Rhine's oeuvre. "Karin and I both grew up in the church," Detweiler explains, "and were exposed to gospel music early on. That influence is something we're quite proud of. The hymnal is a part of our American music heritage that critics sometimes don't know what to do with, but I firmly believe there could have been no Johnny Cash or Elvis Presley without those hymnals – those hymns they grew up with.
"So when we began writing our own songs, there was a dilemma: do we sign some kind of gospel record deal? It certainly wasn't out of the question. We knew people that knew people. But we quickly decided we wanted to take our music into the general marketplace, and put it out there with the great songwriters we were discovering. And one of our first big breaks was getting to open some shows for Bob Dylan."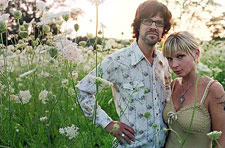 It was only five or six dates, but the experience would inform all that came after. "We got to stand on the side of the stage with this iconic songwriter who sort of gave us permission vicariously to take what we are doing seriously. And that's where we felt at home."
They signed with a mainstream label, but never shied away from addressing matters of the spirit. "I'm still very much sorting out the tradition that I came from, my own relationship with God and what I believe. I'm sorting through that, and I want to engage people on that level.
"For me, writing is often very much tangled up in trying to figure out what it is that I care about. What is it that I'm feeling? I'm asking a lot of questions as I go, and for people that want to get into life's bigger questions, I hope they can find some good questions being asked in my own songs. It's not so much about saying that 'this is what I know for sure,' it's more about saying 'I really think I'm learning this. I've experienced this small victory that I want to celebrate; how about you? Are you with me one this?'
"G.K. Chesterton said we need priests to remind us that one day we are going to die, but we need a different kind of priest – the poet, the painter, the singer – to remind us that we are not dead yet. That's what I want to do with my songs; I want to remind people that we are not dead yet."
They take inspiration from a wide range of sources;"It's different people at different times, but I'm certainly drawn to fresh language in song – to people that have a lot of facility with language. People like Dylan, Leonard Cohen, Joni Mitchell and Randy Newman."
The list – as Detweiler readily admits – consists entirely of older artists. "I don't want to sound curmudgeonly," he laughs, "but those have been some of the teachers that I discovered as a young songwriter, and they have remained important teachers. I hope I'm continuing to find new teachers. Joe Henry has been an incredible find. I've learned a lot from him, both in terms of writing and in terms of being a human being."
Writers – fiction and non-fiction – are another source of inspiration; "I find myself returning to authors like Annie Dillard, Fredrick Buechner and even Lauren Winner. I like exploring the same terrain as Annie Dillard, whose books function on a lot of different levels; some people appreciate them for the craft, some love her interest in nature – and her unique way of engaging with the natural world – and some are very interested in what she's exploring spiritually. That's what I aspire to."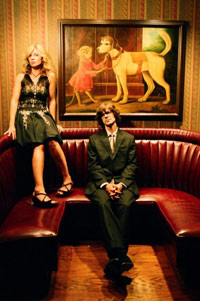 Sometimes, in spite of a writer's intent, multiple interpretations can be valid. "That's the mystery of writing," Detweiler agrees. "Sometimes listeners will teach us things about our songs. We love that back and forth conversation, and hopefully – because of the different levels – there isn't just one right or wrong interpretation that neatly summarizes everything."
Another enigma is how the artist can at times appear far removed from the art. From Hank Williams to Townes Van Zandt, stories of lives lived in marked contrast to their own lyric are legendary. "I have friends that hung out with Townes quite a bit, and it was a wild ride," Detweiler notes. "Apparently, he had a lot going on. But I don't divide the world into the broken and the unbroken. I think we are all flawed, we all struggle at times.
"The film Amadeusreally explored that idea beautifully, as somebody very gifted being simultaneously flawed." For instance, John Lennon; "All those amazing songs he wrote about love and unconditional love, and the power and freedom that's connected to loving your neighbor well. And then you think of Lennon's personal life, and the bitterness that he struggled with, and I realize that people like Townes and John Lennon aren't necessarily writing a personal history of what is happening, they're writing about what they are aspiring to. And I love that tension. I often write what I'm aspiring towards. That's why anybody can hand something beautiful to the world. You don't have to be all the way there, but if you can see it out in front – if you can tune into that vision or whatever – you can have something to say."