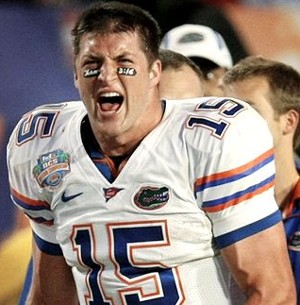 Many professional athletes are known for their faith, but few have been as upfront about it as football star Tim Tebow. His characteristic prayer position — kneeling on the gridiron, fist on forehead, elbow on knee — has even given rise to a new verb — to 'tebow' (http://tebowing.com/). His persistence in outward signs of faith — and his talent — have made him a hero to many and a pariah to others.
Following a stellar college career featuring two national championships and a Heisman Trophy, Tebow looked less impressive during his first year as a pro with the Denver Broncos in 2010. This year he faced down an army of armchair critics when he took over as first string quarterback, turning a losing season into a winning one along the way.
Tebow seems to have a knack for separating the sheep and the goats among football fans. Many are convinced he'll be as successful in the National Football League as he was in college – including a large contingent who think he is, literally, God's gift to football. Others feels he's been hyped by religious fanatics beyond his talents, and that he's over his head as a pro.
Last month, before the Broncos began their winning streak, an article in The New York Times took note of the phenomenon: "At the intersection of faith and football, the fervor that surrounds both Tebow's beliefs and his struggles in his second season for the Denver Broncos has escalated into a full-blown national debate over religion and its place in sports."
Newsday proclaimed 'Tebow-mania sweeps nation! on December 2, following the latest in a series of come from behind victories, this time over the Minnesota Vikings.
USA Today weighed in with 'Public displays of faith put Tim Tebow in the spotlight". What distinguishes Tebow from the many other pro athletes who are also very clear about their faith? Maybe it was the John 3:16 eye-black he wore during his college career. Or the controversial pro-life ad he was featured in during the Super Bowl. Or the fact that he said hell awaits those who don't follow Jesus Christ.
Hard to say, but he has become a whipping boy for those who don't like religion, or at least don't like being reminded of it during their entertainment. On the other hand, many Christians feel he's a hero of the faith, and others simply see him as a great role model in a world which gives so much attention to bad boy rappers and morally challenged movie stars
Tebow himself seems to be taking it all in stride. On the field he thrives on comeback situations; on his website he offers some simple guides to life: "John 3:16; hard work beats talent when talent doesn't work hard; God bless and Go Broncos."
For those who want to get to know him better, Tebow has found time to write a book, Through My Eyes. Tebow was one of three top college quarterbacks – all strong Christians – who entered the NFL last year. Mike Yorkey profiled Colt McCoy and Sam Bradford along with Tebow in Playing With Purpose. McCoy is now leading the Cleveland Browns, while Bradford is following up on a very successful rookie season with the St. Louis Rams.